Posted Tue Nov 4th by Monty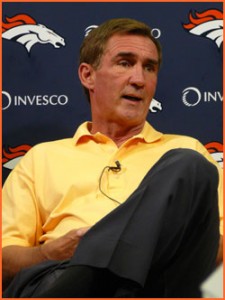 Every week, it seems the Broncos lose two to three more players for a significant amount of time due to injury. This Sunday was no different. The Broncos lost running backs Andre Hall and Michael Pittman for the season on Sunday; they also lost linebacker D.J. Williams and safety Marlon McCree for three to four weeks each.
To offset these injuries, the Broncos added three players to their active roster Tuesday – outside linebacker Mario Haggan, safety Roderick Rogers and running back P.J. Pope. Head Coach Mike Shanahan discussed the injuries, along with the possibility of getting some of the other guys back, during his Tuesday presser.
"(RB) Michael Pittman was put on IR. A spinal cord (injury)," Shanahan told reporters. "He had some numbness in his hands and doctors recommended that he stay out. (LB) D.J. Williams has a third-degree MCL (injury). Four weeks of (missed) participation there. (RB) Andre Hall (has a) broken hand. (S) Marlon McCree (has a) high-ankle sprain—three to four weeks (he will be out) in that area. (TE) Tony Scheffler and (RB) Selvin Young, we will get a chance to evaluate a little bit later today."
When asked if he could remember a time where he coached a team with so many injuries, Shanny replied, "I don't know that I've ever had both captains out on defense before, so that's a little bit different. But that happens during the season and there is no reason to use that as an excuse. That's why you have depth on your football team."
Shanahan went on to discuss his options for replacing Williams and Bailey on the field. "We are going to have (LB Wesley) Woodyard and (LB Louis) Green. Woodyard doesn't have a lot of experience, obviously, but he has played well on special teams. Lou Green has a lot of experience. We will take a look at those two guys and make a decision on which direction we are going to go. Then you take a look at (CB) Karl Paymah—I think he played well during the game."
I didn't think we could be hit harder with injuries than we were last year, but 2008 is making a strong case. Hopefully Selvin and Tony can finally return, and we can get a good effort by our running back tandem (and Peyton Hillis. Then the 10-day break will be good to FINISH what we started on the bye week – getting healthy.