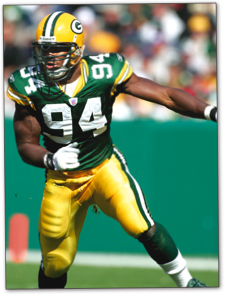 The Green Bay Packers released defensive end Kabeer Gbaja-Biamila who currently holds the Packers sack record in his nine year career there in order to make room for another player coming off the PUP list.
KGB has had a stellar career and really knows how to get to the passer, but he's had only one start this season. That suggests that he's slowing down. But would a slow KGB still be an improvement on our squad? Certainly that's not a guarantee — Simeon Rice wasn't able to perform for us last year, ending up in an argument over not being given a chance to prove himself (and not doing squat when he was given a chance).
Should the Broncos pursue KGB? Should we let him go?
Personally, I think we should at least bring him in for a work out and an exam, see where he is. We lack enough playmakers on our line. It seems like it would be worth at least trying him out, but I wouldn't get into a bidding war over him. One year contract for a bit more than the veteran minimum, possibly with incentives.