Posted Wed Oct 29th by Monty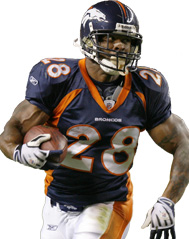 Good News: Running back Ryan Torain went through a full practice, marking a likely NFL debut for this Sunday. Michael Pittman, who sat out last week's only practice with bruised ribs, also went through a full workout. WR Eddie Royal wasn't listed at all, indicating his previous ankle concerns are a non-issue at this point.
Bad News: TE Tony Scheffler was limited in practice again, along with RB Selvin Young. Andre Hall was also limited with an ankle injury. How ironic is this – heading into Week 8, the Broncos' healthiest running back just might be Ryan Torain.
'I Don't Know Where to File This' News – WR Brandon Stokley was limited in practice, dealing with the concussion he suffered against Jacksonville in Week 6. I'm glad he's seeing the field, but part of me was hopeful he'd be full steam after the bye.
Meanwhile, Miami has only one player listed on their injury report – their fullback. Oh, and he went through a full practice. We'll be getting Miami's best in Denver this weekend. I say bring it on.