Posted Wed Oct 29th by Monty
Mike Shanahan (Getty Images)
Your wittiest, most cleverest captions in the comments.
Yesterday's winner – Awesome Austin: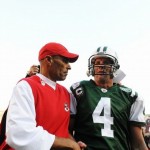 Hey Brett if you come play for us next year I guarantee we will win at least 3 games…and if you shake my hand the you agree to come play for me….ahhhh too late you shook sucker!
Remember to leave your caption for the top photo. Happy captioning!