Posted Fri Oct 24th by Monty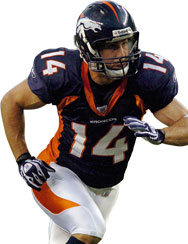 The Bailey brothers and Patrick Ramsey aren't the only Broncos dealing with injuries. Luckily, the Broncos look to use the bye week to get some of their other injured players back.
We already reported that Ryan Torain says he's 100% and ready to go — expect his first NFL career action to take place next Sunday against Miami. Meanwhile, Jay Cutler doesn't expect to suffer any long term effects from his finger injury. Thank your lucky stars there – that would have been a deal breaker.
According to the Denver Post, wide receiver Brandon Stokley is hopeful he'll be ready for Miami. Stokley suffered a concussion in the Broncos' loss to the Jaguars in Week 6 and missed the subsequent game in New England.
"If there's no symptoms I'll keep increasing it and hopefully be ready to go next week," Stokley said.
Meanwhile, tight end Tony Scheffler and running back Selvin Young have both missed two weeks with groin injuries. They're working to get healthy, but there's no word yet on their return. The Post also reports that running back Michael Pittman suffered a stinger and will see a neurosurgeon as a precautionary measure. Pittman also suffered bruised ribs, which held him out of practice Wednesday, but says neither injury should keep him off the field.
A nice bit of R and R should help our Broncos on the mend. Maybe it's just me, but I think the fans could use a break for a weekend, too…