Posted Wed Oct 22nd by Monty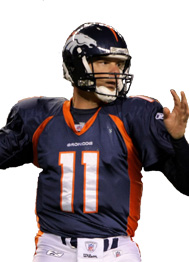 The Denver Broncos just can't catch a break. As if the team didn't have enough injuries to worry about, they announced Wednesday that backup quarterback Patrick Ramsey has been placed on Injured Reserve, ending his season.
Ramsey played for a few snaps in Monday's loss to the Patriots after Jay Cutler injured his right index finger. Ramsey aggravated the right elbow injury he suffered before the season began.
Expect practice squad QB Darrell Hackney to compete for the backup role with a veteran the Broncos would likely bring in.