Posted Tue Oct 14th by Monty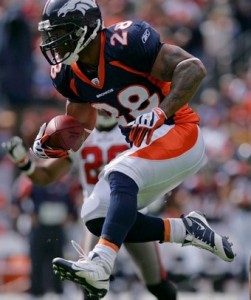 The Denver Broncos appear to be finally weaning themselves off the committee approach to running the football.
Head Coach Mike Shanahan announced on Monday that running back Michael Pittman was designated the "full time" starter for Sunday's game, and he didn't see any reason to change that.
"I thought Michael did a great job. He ran the ball extremely well and passed protected well," Shanahan said during Monday's press conference. "He took advantage of his opportunity. Everything that you want him to do, he did. If you play like that, you get the opportunity to have more playing time."
Shanahan indicated his impressive performance against the Buccaneers in Week Five had a lot to do with his playing time this past weekend. "One of the reasons he got as much playing time as he did is because of the way he played last week. He sure didn't hurt himself in this game."
Former starter Selvin Young was out with a groin injury Sunday. The team will have a better feel for his condition on Wednesday, leaving only Pittman and Andre Hall. Shanahan told reporters that Pittman will run until he's tired, leaving Hall as a "true" backup.
"After (Pittman) played how he did the week before, I thought he deserved the opportunity to play full time. If he got tired, he was going to take himself out and let Andre (Hall) go in there. He played well enough the week before to give himself the opportunity to keep the job."
Fifth round draft pick Ryan Torain could also become a factor in the weeks ahead. Shanahan initially said he could start practicing as soon as this week, but with Pittman holding the hot hand right now, there's no need to rush the rookie's return.