Posted Tue Oct 7th by Monty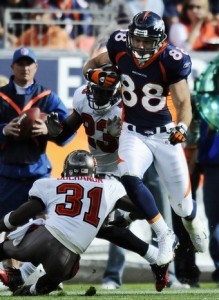 Tony Scheffler suffered a groin injury in the waning minutes of Sunday's win against the Bucs. (Reuters photo)
Sunday's 16-13 victory over Tampa Bay came with a price for the Broncos – several offensive playmakers were left on crutches. 36 hours later, it's still unknown how serious these injuries are, or how they'll shape the rest of the 2008 season.
First, the good news – wide receiver Eddie Royal's (ankle) X-rays were negative. Royal told reporters after the game that he hoped to play at Jacksonville on Sunday, but that sounds like a tall task at this point. It wouldn't surprise me to see the Broncos take it easy on Royal this week, but thankfully we don't have to worry about Royal missing an extended period of time.
Next, the bad news – or, more accurately, the unknown. Tight end Tony Scheffler has suffered a strained groin. We've caught wind that it could be a serious injury – even season-threatening, but that's only speculation at this point and is unconfirmed. Scheffler told reporters on Monday that he doesn't think he'll be ready for Sunday against Jacksonville, but doesn't believe his injury to be serious. Meanwhile, running back Selvin Young also suffered a strained groin in Sunday's win. The team gave no updates to either player's status during the team press conference on Monday, so expect news on both guys to come down Wednesday.
If Scheffler can't go, it puts the Broncos in an extremely tough spot. Scheffler is arguably Jay Cutler's second favorite target, and the proverbial "X-factor" when attacking opposing secondaries.
Expect Nate Jackson to have an increased role in the short term whether Scheffler goes or not, and particularly in the long term if Scheffler's injury is more serious. The Broncos signed Chad Mustard on Monday as well, adding depth to the tight end position that still includes the versatile Daniel Graham.
Meanwhile, Young is the starting tailback. While the Broncos have yet to designate a single back as "the guy," he brings a speed element to the running game that complements the power running style of Michael Pittman. He's not getting the bulk of the carries, but his injury is still significant.
Head Coach Mike Shanahan did drop this nugget in his Monday presser – rookie running back Ryan Torain, whom many speculate could become the feature back later in the season, could return to practice as early as next week. That would put him in a great position to achieve active status after the bye week, which has been his unofficial target date all along.
The Broncos have been relatively healthy this season up to this point – it's looking like they'll have a good test at their depth and character in the weeks ahead as they try to get this offense healthy again. Losing Tony would be a big blow, so we're crossing our fingers – but I have confidence that Jackson and Graham can get the job done if Scheffler can't.