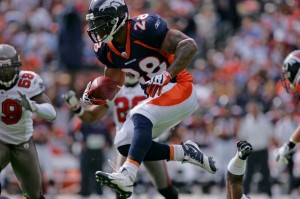 Michael Pittman (Getty Images)
I'm sure you all know I'm NOT a big fan of the running back by committee strategery. It's not because I don't like the backs we have – quite the opposite. I really like Selvin Young. I'm a huge Andre Hall fan. I've also expressed my fandom for Peyton Hillis this off-season and Michael Pittman has been a wonderful surprise for me.
But despite this talented team of individuals, I am not satisfied with how the rotation of these players has preformed so far (14th in the league in rushing yards).
Therefore, I propose the following: Pick a guy and go with him.
Think of it this way. We had a great competition this off-season for middle linebacker. Webster and Niko fought like crazy for the starting job and both men brought slightly different skills to the table. However, in the end Shanahan went with ONE guy. We wouldn't even CONSIDER having the two of them rotate in and out of the lineup each series because that would ruin the chemistry and comfort of the surrounding unit even if it brought different and unique talents onto the field.
The same HAS to be true of the RB's as well. You can't tell me that our O-line, our FB's and TE's as well as Cutler won't rather have ONE guy that they can 'get a feel for' during the week (and the game). This constant switching out runners thing is doing more harm to our consistency rushing the ball than it gains us in flexibility.

And consider this point… When you have ONE guy lining up almost all game long, you can disguise your play-calling better. When you have 'role-players' in the backfield, it's easier for opposing defenses to figure out how you will use the back in any given play.
And, no, I don't buy that we're a throw-first team now. I think we've relied on that part of our game because we've not dominated the run game like we have in years past, and that's PUT us into the throw-first mentality out of necessity.
I mean, I want a running game that allows us to crank out points late in the game (as we're winding the clock down with a solid lead). I've seen too many games this season where we can't get a first down by rushing late in the game and that forces us to punt and give our opponents the ball (and a chance to score) again.
So, if I'm endorsing a single-back starter with only occasional spelling duty for the others, WHO would I recommending starting?
Good question.
I like all the backs, but if I had to pick ONE guy that I thought was dominating the game right now, it would be Michael Pittman.
I know, I know. Young and Hall are more explosive and speedy. I get it. But what we need is a well rounded ball carrier and Pittman has all the skills of an every down guy.
Think about which one picks up coverage the best in passing plays. Pittman blocks like the 11th year pro he is. Think about which one gives Jay the best target as a check-down receiver. Pittman has great hands and is dangerous as a short-yardage pass catcher. But what we need most when trying to set up the running game early is a bruiser like Pittman. That 3rd-and-6 run of 16 yards where he runs over guys is a great example of the extra yards he can get INSIDE the tackles. It also shows that he can get those third down conversions on the ground.
Ideally, if we don't HAVE to throw the ball to get first downs, that forces our opponents to bring in extra help in the box – which will free up the receivers. We might even see the double coverage on Marshall get cut in some cases.
It also makes our play-action kick even more ass than it does right now. With the same personnel on the field, you just can't tell what is a 'real running play' and which one will be PA.
So, there's my case for a single back getting the start and 20 carries per game. I don't expect to see this happen, but I wanted to voice my opinion on the subject.
What do you all think? Am I nuts? Should we continue to spread the ball around the backfield? Should Young or Hall get the start rather than Pittman? I'm interested to hear what you think!