Posted Sun Oct 5th by Monty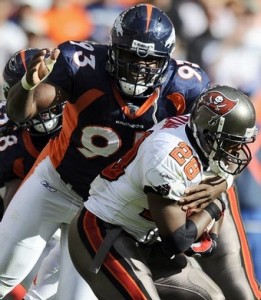 Nic Clemons tackles Warrick Dunn for a loss (Reuters photo)
It wasn't the type of game you would expect from offensively-minded Head Coaches Mike Shanahan and John Gruden. Yards were scarce, points scarcer, and field goals and punts were traded at will. Ultimately, the Broncos defense silenced their critics, and the Denver Broncos (4-1) sent the Tampa Bay Buccaneers home with a 16-13 throttling at INVESCO Field at Mile High.
With the victory, the Broncos move to 4-1 on the season, regaining their two-game lead on the San Diego Chargers in the AFC West, who fell to 2-3 in Miami on Sunday.
Quarterback Jay Cutler finished with a decent 23/34 for 227 yards and one touchdown (no interceptions). It was his most pedestrian outing of the season but not unexpected against a furious Tampa Bay defense. The key was the lack of turnovers – the Broncos offense committed zero – while hustling and sacking Tampa Bay's two quarterbacks all game long.
It was the type of tight, controlled game many Broncos fans were clamoring for after the messy game last week in Kansas City, and obviously it was just what the doctor ordered.
Familiar faces played a big part in this game (John Lynch not withstanding), with Michael Pittman bulldozing through his former teammates. Broncos All Pro CB Champ Bailey ruined QB Brian Griese's homecoming, knocking the former Bronco out of the game.
Ebenezer Ekuban, D.J. Williams, and Elvis Dumervil all notched sacks, while Nic Clemons had another that was called back due to a penatly. Fellow DT Marcus Thomas came up with a big interception that would have sealed the game early if he hadn't fumbled it away a few steps later. That doesn't even tell the tale enough – the defensive line was in the quarterback's face all game long. Opposing running backs broke a few plays, but for the most part were stuffed at or near the line of scrimmage. This defense stepped up – holding a Top 10 offense to 13 points.
The offense struggled to get going, but had a few nice drives in the fourth quarter to seal the game. What a win, go Broncos, on to Jacksonville!