Posted Fri Oct 3rd by Monty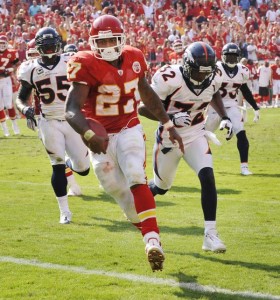 Was the rush defense exposed against Kansas City? (AP Photo)
The BroncoTalk Staff is grading the Denver Broncos through the first four games of the 2008 season. Here's our take on the rush defense. We invite you to give your grade at the bottom of each post as well. Enjoy!
Rush Defense – Staff Grade – C
Jonathan (C-) – What? A 'C-' is too high, you say? Well, the truth of the matter is: They do very good against the run on 95% of the plays… then they get burnt for +60 yards on a single broken play and it looks like they suck. We need to stop the dreaded Big Play. If we can do that we'll be on track to have a solid B- defense. And a B- defense is plenty if our A+ offense can score 40 points per game.
Josh (B-) -   This is the one facet of our defense I've been pretty happy with so far.  For the most part they've stopped teams from turning us into swiss cheese.  Larry Johnson did have a good game against us, but other than, not too bad.  L.T. wasn't able to do much but either was the speedy Sproles in his place.  Most of the big plays/gains by running backs have been made by dump off passes and screens.  You can hardly fault the line for that, right?  Marcus Thomas has been show flashed and gives us some real hope on the line.  He has been able to burst into the backfield and completely break down plays on occasion.  If we see more of that, we can expect a better unit as a whole.
E. Halsey Miles (B) – Rush Defense gets a B, but it's coming at the expense of the pass defense.
Ian (C+) – Here's an interesting note, the Broncos are undefeated this season when Dewayne Robertson plays. Prior to this, the rush defense was kind of difficult for me to grade, because the passing defense is so atrocious- I felt like teams didn't really need to run on Denver. However, teams have ran on the Broncos 106 times this season, only 11 other teams have been rushed at more this season. Denver is giving up an average of five yards per carry and an average of 132.8 yards per game. However, if you take away two very large runs (Larry Johnson's 65-yard run and Justin Fargas's 42-yard run, in garbage time) Denver's run defense is 16th in the NFL as opposed to 26th. One more interesting stat is that Denver is in a four-way tie for first in fumble recoveries. There's no denying that Denver's run defense was one of the main reasons that the Broncos were able beat the New Orleans Saints.
Kyle (D) – Jonathan said it perfectly. We're solid most of the time, but giving up big plays. That's a big problem, though, and cost us a football game against the Chiefs. Ian's note about Dewayne Robertson was perfect as well. But being 'F minus minus' on two or three plays a game is completely unacceptable. D.J. Williams is playing exceptionally well, though, and that's the reason I don't give them a flat-out F.

Loading ...