Posted Fri Oct 3rd by Monty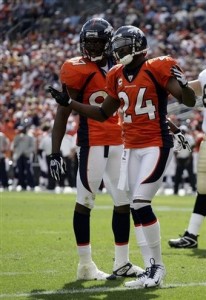 The BroncoTalk Staff is grading the Denver Broncos through the first four games of the 2008 season. Here's our take on the pass defense. We invite you to give your grade at the bottom of each post as well. Enjoy!
Pass Defense – Staff Grade – D
Jonathan – C- – We're not pressuring the QB and we're giving up short yardage passes (some of which turn into big plays). Our CB have given up one side of the field every week and produced very few deflections and interceptions. I think Shanahan is going through defensive backs (safeties and CB's) right and left and we still don't have an answer. I wish I had an easy fix… unfortunately, I don't. :(
Josh – D- – The only thing not giving this unit a flat out F is that I thought the defense as a whole unit played better against the Chiefs when we thought we would need it the least.  More of the same from this group, pure inability to reach the quarterback all season. I hate to say it, but I think Moss and Crowder are starting to look like busts. We need a true playmaker.  They've made a few key stops all season.  I do like the switch to Jack Williams over Paymah. The kid has nothing but upside at this point because he basically looked like the same person as Paymah in a bad game against K.C.
E. Halsey Miles – F – Pass defense gets a big fat F.
Ian – F – Well, as bad as it is made out to be? No. Better than it's supposed to be? Definitely not. It seems like the pass rush is missing the angles, coming up milliseconds from quarterback sacks. Whether Denver is employing a 4-3, 3-4, nickel, cover-2, cover-3 or stunting like Lil' Wayne's Daddy, they just can't get to the quarterback. The pass rush, collectively, has gotten to the quarterback five times in four games: Kenny Peterson (two sacks), D.J. Williams, John Engelberger and Ebenezer Ekuban (all one sack), have all taken the bull by the horns this season. That puts Denver amongst interesting company, ranked 23rd in the NFL for sacks, the New England Patriots, Washington Redskins and Jacksonville Jaguars all rank consecutively below Denver. Yet, the pass rush only accounts for 50% of the pass defense. Though the Broncos didn't blatantly come out and say it, the amount of turnover they've had in the secondary since training camp has basically signaled a code red. Denver cannot get an answer from their corners on who should be their nickel back, that coupled with the fact that a ball hawk safety has yet to emerge.They are ranked whiskers above dead last in pass defense, by .2 yards actually. Something's got to give, but take into account the fact that the Broncos have faced two of the dominant passing offenses in the NFL within the first four weeks of the season.
Kyle – C- – Pass defense has a lot to do with the quarterback you face each week, and in four weeks in the NFL the Broncos have played two of the top quarterbacks in the league in 2008. How remarkable is this – both Cutler and Saints QB Drew Brees or on pace to beat Dan Marino's season yardage record – Cut would just edge it out, and Brees would destroy it. I'm not concerned about giving up yards to him or Philip Rivers – all three QB's are having MVP-caliber seasons through the first quarter. C- is still a bad grade – they need to pressure the quarterback better, and the coaches need to give a playmaker like Champ Bailey the opportunity to succeed – but I'm not overly concerned about passing offenses against our defense in the future.

Loading ...