Posted Tue Sep 30th by Monty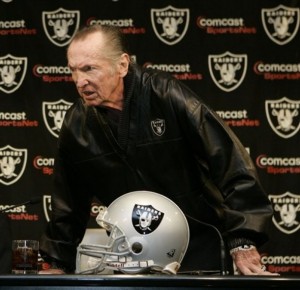 "I sent (Lane Kiffin) a letter…. If you'll bear with me, it's about three pages."
Yes, yes, a thousand times yes.
Oakland Raiders owner Al Davis went off on ex-coach Lane Kiffin late Tuesday, releasing this letter he allegedly sent Kiffin in the week following the Raiders' 41-14 pounding by the Broncos.
In the letter, Davis accuses Kiffin of lying to the media on several occasions. He claims that the rift between he and Kiffin came to a head this offseason after Kiffin unsuccessfully campaigned for his father, Monte Kiffin, to take over the defense in Rob Ryan's place.
In his press conference on Tuesday (announcing offensive line coach Tom Cable as the interim Head Coach… good luck there, Tom), Davis calls Kiffin a "flat-out liar" and a master of "propaganda." He says a lot more than that in the letter, too, detailing Kiffin's opinion on Raiders personnel and one JaMarcus Russell. Here's an excerpt:
I realized when I hired you that you were young and inexperienced and that there would be a learning process for you. Your mistakes on player personnel and coaches were overlooked based on our patience with you. But I never dreamt that you would be so untruthful in statements to the press as well as on so many other issues. Your actions are those of a coach looking to make excuses for not winning, rather than a coach focused on winning.

For example, with the exception of Gibril Wilson, you were involved in recruiting all free agents and determining salaries for them and you were explicit in your desire to sign Javon Walker and DeAngelo Hall amongst others. All were a must to sign in your eyes, Hall in particular, because he played for Greg Knapp in Atlanta and Knapp gave him high grades. Do not run from that now.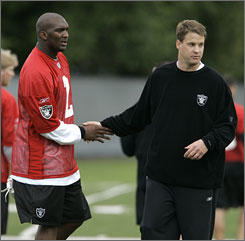 But wait, it gets better…
I do realize that you did not want to draft JaMarcus Russell. He is a great player. Get over it and coach this team on the field, that is what you were hired to do. We can win with this team!
This type of candid access is beyond sanity. And I'm loving every minute of it.
The best part is that some people are actually buying this. Are you kidding me? Think for half a second here, people. Al Davis is releasing this "dated" letter to help build a case against Kiffin and the inevitable lawsuit involving his contract. That letter has phony written all over it.
You can watch the press conference here (part 2 here)… Davis appears somewhat-less-than-senile in this video (perhaps the most remarkable outcome of the day). He does let fly one more shot at the Denver Broncos and Mike Shanahan, too, which is just sweet, sweet icing on the cake in my view. More on that later.
Meanwhile, interrim Raiders Head Coach Tom Cable was busy singing Kiffin's praises. "I respect Lane Kiffin. I love the guy. I think he worked his tail off." We hear Davis is drawing up Cable's resignation papers already.
(H/T Deadspin for the Davis photo)