Posted Mon Sep 29th by Monty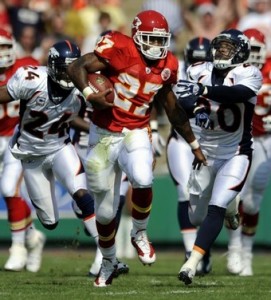 Getty Images
Chiefs 33, Broncos 19. Ugh. Let's break it down.
10. Larry Johnson's big run set the stage.
There are few things more demoralizing than seeing the opponent's running back pop off 65 yards like nothing. Seeing him do it on the second play from scrimmage is worse. Things were already looking grim for the Broncos, but the defense stepped up and held the Chiefs to three.
9. Eddie Royal's fumble gave Chiefs momentum.
That's no way to get this explosive offense going. Royal's fumble gave the Chiefs the ball back at Denver's 26 yard line (more on that later), and the defense was called to make up for the Broncos' mistake. They did the best they could, holding the Chiefs to another field goal. These miscues all led to something that has always spelled disaster for the Denver Broncos…
8. Arrowhead Stadium went crazy.
You cannot win in Arrowhead when the crowd gets into it. The Chiefs were on a 12-game losing streak and welcomed an undefeated Broncos team. Reports said there were more blue and orange jerseys and empty seats out there than there had ever been before. Chiefs fans didn't believe they were going to win, but with an early lead and some big plays, the crowd started going nuts. This young Broncos team wasn't ready for the throngs of Arrowhead.
7. Offense never got into rhythm.
The Chiefs had one of the worst rush defenses in the league heading into the game, yet the Broncos couldn't get their ground game going. They could only muster 94 yards. Then they started getting cute, trying trick plays and reverses with Brandon Marshall that only led to another turnover.
6. Defense got tired by fourth quarter.
The defense played okay for three quarters, only giving up 16 points despite all the turnovers the offense gave up. In the fourth quarter, though, the Chiefs had their way with them. True, that final touchdown occurred when the game was simply out of reach, but the Broncos needed to hold them to zero points to help this offense. They didn't get the job done. This defense has talent, but no depth, and it's showed in the fourth quarters of games all season long.
AP Photo
5. Turnovers led to great Chiefs field position.
The Chiefs AVERAGE STARTING FIELD POSITION was the Chiefs' 47-yard line. Yup. Three yards shy of Denver territory. A combination of inconsistent kickoff coverage and turnover after turnover gave the Chiefs a short field.
4. Five field goal attempts is four too many.
Meanwhile, the Broncos couldn't punch it in. I'm hoping NFL Replay picks this game up, because I'd love to take a closer look at this tape and see why. It's obvious to me that the offensive line didn't play as stellar as they have in games past – they still played well, just not dominant. Up to this point the offense has been as explosive as it is because the o-line has been dominating the point of attack. The running offense was putrid and they gave up their first "real sack" of the season. To the Chiefs. Likely the worst defense they had played against thus far. Unacceptable. I'm sure playcalling owns a big piece of this blame pie as well.
3. Jay Cutler can't throw two interceptions.
Cutler was rattled this game. He was shoving opponents, shoving teammates, and just never quite settled down. For the second straight week, he's forcing balls downfield, looking for the big play when he has short dump off yardage screaming for him. Jeremy Bates needs to really, really drill it into this kid that he needs to play better quarterback football. On the long interception, Tony Scheffler was wide freaking open up the middle for a huge gain. WIDE OPEN. That was a big play touchdown for sure. Instead of checking his options, Cutler locked onto Marshall and tried to squeeze a ball in. Interception. Horrible decision. He has to play better.
2. The Broncos weren't ready.
This one falls on you, Mike Shanahan. It's the Head Coach's job to make sure the team is ready for every game, and they were obviously too busy listening to everyone talk about how good they are to buckle down and focus for an always-tough Arrowhead experience. The Broncos were cocky and overconfident – well, they're humbled now. Maybe this is exactly the lesson this team needs. Football players can't take any game in the NFL for granted.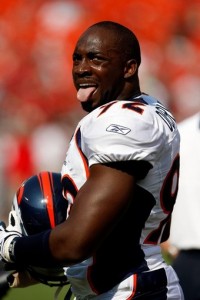 Getty Images
1. This defense is just downright awful.
I'm an optimist through and through – I really, sincerely believed this Broncos defense was much better than the Broncos defense circa 2007. Yes, they gave up big points and yardage to the Saints and Chargers, but I chalked that up to a couple of shootouts against two explosive offenses. That is, until yesterday's game. This defense is one of the worst in the league.
The front four is small and lacks power. No one is getting after the quarterback. The linebackers are better than last year, but they're still allowing a big play every single freaking game!
Here's a nugget for you: the Broncos have allowed six plays of over 40 yards in four games this season. Last year, 2007's horrible defense allowed nine ALL SEASON! That's right, Broncos fans – in some ways, this defense is actually worse!
They need to play more disciplined football for four quarters. I'm ready to make a trade for a big time playmaker – give the Panthers a 2nd round pick for Julius Peppers, someone, anyone – stat. We were counting on our 2007 draft picks to make a big impact, and they're just not cutting it AT ALL. Jarvis Moss cleanly escapes two plays and gets brick-walled BY THE RUNNING BACK. If you're free from an o-lineman and you're getting stonewalled by RBs, let's just mark you a bust right now and move on. Get someone, ANYONE here who's physical and pass rushes. Please.
The positives: Despite it all, the Broncos were only down by three in the fourth quarter. With only a few minutes remaining, they were down by seven, with an onside kick bouncing out of Spencer Larsen's hands. Some of you might not want to play the "what if" game, and that's fine, but indulge me for a moment here. If Larsen holds onto that football the Broncos are given new life. Despite it all, they have the ball, down by 7, with only a few minutes to play.
I'm not sure if they go for two in that situation, but Cutler has shown the ability to shake off bad plays and even bad games to get things going for the win. It didn't happen for us this time, but I still believe this is a good team – A PLAYOFF-BOUND TEAM – and one that can take these lessons and learn to focus for the games ahead.
Matt Prater is completely exceeding my expectations, Larsen played well, D.J. Williams continues to be a leader on this defense, and you know this offense will get back on track.
They've got a helluva challenge in Tampa Bay, Jacksonville, and New England in the next three weeks, and will need to show their 3-0 start is no joke before the bye.