Getting back to the hugely successful column that friends and family alike have come together to enjoy, here is the world renowned Page Six: Denver Broncos Week Four Edition.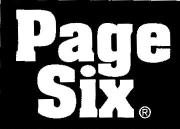 First of all, being as self-congratulatory as we are, we'd like to point out that the Keary Colbert/Clifford Russell situation was brought to you over a month ago by us and thank you… 
Here's what I've got for you this week:
Anyone remember the Al Wilson situation, prior to leaving Denver? Well, apply that the the Tom Nalen situation, were doctors telling him that he's good to go, when he was no where near good to go?
 
Michael Pittman would literally take a bullet for Mike Shanahan, the man is ecstatic to be on the third leg of his career in Denver. 
 
Denver had a literal uneventful off-season, as far as free agency went (yes they picked up Boss Bailey and Casey Wiegmann). This was to clear dead money, for next season. In 2009, look for Denver to heavily target a well known interior defensive lineman. Yes, Dewayne Robertson is here, but the man is a man, not an island. 
 
The Kansas City Chiefs were sniffing around Denver's practice squad, Darrell Hackney ultimately ended up staying in Denver though. However, as a member of Denver's practice squad, he can leave for K.C. at will- should they change their mind.
 
Not even Page Six material, but there is well qualified speak that Jay Cutler could, "Aw shucks," himself to league MVP.  
 
Denver sniffed around a recently released St. Louis Rams cornerback (who would have filled in perfectly as a nickel, if he were not facing possible suspension). 
 
If fired, Oakland Raiders' head coach Lane Kiffin could end up in Denver… Just saying, "Then again he may or he may not," says Emmit Smith (kidding). 
 
A recently released Denver player may have received the boot, for being unwilling to play injured. It's either 100% or 0% with the Broncos, there is no in between. 
 
Mike Shanahan's obviously not happy with the special teams play. Just check the last few people that have been signed to the roster.