Posted Wed Sep 24th by Monty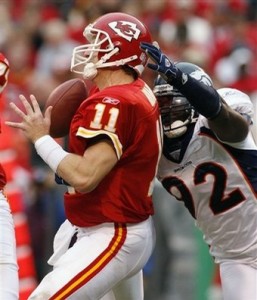 Have you ever had to choose between scratching chalkboards or a root canal? The Chiefs' quarterback situation is sort of like that.
The Kansas City Chiefs are a mess. Their coach claims that their 0-3 start is Part One of a grand rebuilding mode, and he's announced that they'll be starting a new quarterback under center for the fourth consecutive week. Damon Huard gets the nod, and he'll start against a Denver Broncos squad that's undefeated and hungry for their first consecutive win in Arrowhead in 29 years.
Last week's starter, Tyler Thigpen… well, let's just call him "ineffective" and leave it at that. Regular starter (if you can call him that) Brodie Croyle has been sidelined with a separated shoulder he suffered in Week One vs. New England, hoping to return in time for the Chiefs' matchup against also-undefeated Tennessee in mid-October. As a matter of fact, Huard is the only quarterback on the Chiefs' roster who has actually won a game!
Meanwhile, the Broncos employ Jay Cutler at quarterback, an early frontrunner in League MVP conversation. To say this should be a slaughter is an understatement. The Chiefs have scored 32 points total this year. The Broncos are averaging 38 points per game.
No matter who's behind center – 'Tweedle Dee,' 'Tweedle Dumb,' or 'Tweedle Dammit-I'm-Injured-Again' – the Chiefs won't get far this season playing musical chairs with three ineffective quarterbacks. They certainly won't beat the Broncos without a whole lot of magic in Arrowhead.