Quick Facts: With a win this Sunday, Mike Shanahan's career win total would be 150. As it stands Shanahan is 149-95 (.611) for his career. This will be the 96th time that the two teams have met, Denver is actually a loser in the series overall (43-52-0). Denver's running back Selvin Young has registered 100 yard games both times that he has played Kansas City. Denver currently leads the league in scoring (38.0 avg.) and touchdowns (14), the exact amount posted by the New England Patriots last season after three games. Jay Cutler is ranked second in the NFL in passing yards (914) and touchdowns (8). Brandon Marshall is ranked first in the NFL in receiving (24 receptions, 321 yards, 13.4 avg., 2 TDs). Center Casey Wiegmann is also returning to Kansas City for the first time as a Bronco.
***
The Kansas City Chiefs are at home, winless and just chomping at the bit to knock-off the number one Denver Broncos. The immediate thing for fans to keep in mind is that this is an important game, probably the most important game the Broncos will have all week. The outcome can propel the Broncos forward to 4-0 in a weakened AFC. Two of the tougher games that Denver had on the 2008 schedule are done. Both games ended up circling the rim, but ultimately dropping into the win column. Pulling a game at Kansas City in September and not November is also a blessing for Denver.
The Chiefs have yielded 79 points in three games, the Broncos scored 79 points in the first two-games this season. The Chiefs have started three different quarterbacks in three different games, though the early Tuesday word from Herm Edwards was that veteran Damon Huard would start against Denver. The main concern for Denver going in to this game, has to be the recent reemergence of Kansas City running back Larry Johnson.
Opportunity is knocking for Denver, for the first time in three weeks, Denver pulls an offense that is not ranked in the NFL's top five (offenses). Seizing the opportunity, may have been why Denver waited until this week to unload safety Hamza Abdullah- I recall one fan saying that Denver has been afforded another preseason game… I absolutely do not agree, however, he did have a valid point. Personnel will be out of position this week, fans will see the Broncos running a legitimate 3-4 (5-2) for a few series on defense, it will be exciting if fans are able to hold on to the rope.
The Broncos are going to be able to game plan against an offense that frankly isn't very good, though they've got two of the best players in the AFC: Tony Gonzales, is amongst the top three tight ends, perennially, in the NFL. Larry Johnson, despite last year, is still amongst the best running backs in the league, until someone proves him wrong. They've also got a guy named Dewayne Bowe, he's not good, but great, despite being on a team that can't get him the ball. Had the Chiefs been able to get Brady Quinn from the Cleveland Browns some how, we'd have trouble (as would the rest of the NFL), but they weren't, so…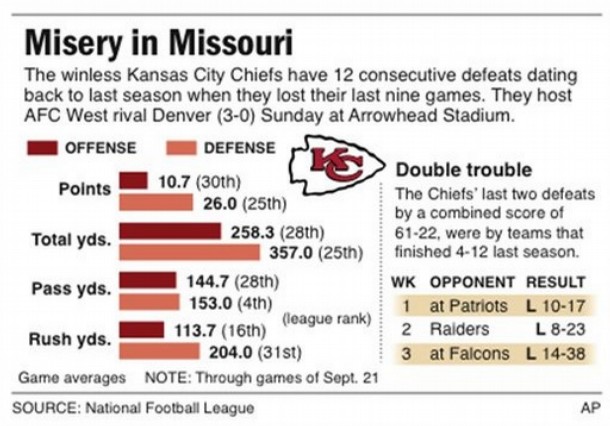 I'm skipping keys this week and simply taking a crack at what will happen: young Bowe will beat Champ Bailey at least twice, whether or not Bowe is thrown a ball that is catch-able is up to Huard. Larry Johnson will rush for 100 yards, but it is up to Denver to cap him there. The final telling is Tony Gonzales, he'll be open, a hell of a lot, and it's up to Bob Slowik to figure out how to stop one of the top three tight ends in the league. Of course Slowik will, but there's really nothing to brag about, next year around this time, the Chiefs will figure out their quarterback situation and they'll be a problem.
In the mean time, Denver will set another record; beating the Chiefs in Kansas City for the second-year in a row.