Posted Tue Sep 23rd by Monty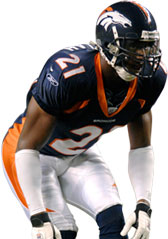 The Denver Broncos performed a flurry of roster moves on Tuesday, some surprising, some not. It was first announced that veteran C Tom Nalen has been placed on Injured Reserve, ending his season and possibly his career.
That move isn't surprising. This one is – safety Hamza Abdullah, the starter up until the third week of preseason, has been waived. The Broncos added free-agent safety Vernon Fox, most recently from Washington, to take his place.
Abdullah started in eight games for the Broncos in 2007, finishing with a career-high in tackles (48) and pass breakups (7). He was declared inactive as a healthy scratch against both the Chargers and Saints this year. In his one and only game in 2008 against the Raiders, Abdullah registered one tackle.
The Broncos also released wide receiver Travis Wilson from its practice squad on Tuesday.
It makes you scratch your head a bit. Abdullah was by no means an All-Pro, but releasing him for another team's scraps is a surprise. This was a starter for the Broncos a month ago. He obviously wasn't stepping it up in practice; perhaps he stopped putting in the effort after he was benched. Press release after the jump.
ENGLEWOOD, Colo. — The Denver Broncos on Tuesday signed free-agent safety Vernon Fox and waived safety Hamza Abdullah, Head Coach Mike Shanahan announced.
The club also on Tuesday released wide receiver Travis Wilson from its practice squad.
Fox (5-foot-10, 203 pounds) is in his seventh NFL season and joins the Broncos after spending the previous two years with Washington, which released him on Aug. 25. He also has played for Detroit (2004-05) and San Diego (2002-03) after entering the NFL with the Chargers in 2002 as a college free agent from Fresno State University.
In 86 career games (11 starts), Fox has totaled 90 tackles (69 solo), two interceptions (21 yds.) and eight pass breakups. He also owns 73 tackles on special teams along with one blocked punt for his career.
Last season with Washington, Fox appeared in 14 games (0 starts) and tied for third on the club with 16 special-teams stops while adding two defensive tackles. He started a career-high six games and appeared in all 16 contests for the Redskins in 2006, recording personal bests in defensive tackles (42) and special-teams tackles (26).
Fox saw time in 14 games in each of his two years with the Lions from 2004-05. During his first two professional seasons with the Chargers from 2002-03, he appeared in a total of 28 games (5 starts) and had 45 tackles along with one interception.
A two-time first-team All-Western Athletic Conference selection at Fresno State, Fox attended Cimarron Memorial High School in Las Vegas and was born on Oct. 9, 1979.