Posted Tue Sep 23rd by Monty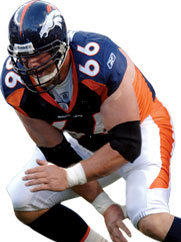 ENGLEWOOD, Colo. — The Denver Broncos on Tuesday placed center Tom Nalen on injured reserve with a left knee injury, Head Coach Mike Shanahan announced.
A 15-year veteran, Nalen ranks second in Broncos history in career starts (188) while his 194 career games played in a Denver uniform represent the third-highest total in club annals. He entered the league with the Broncos as a seventh-round selection (218th overall) in the 1994 NFL Draft from Boston College.
Nalen, whose five Pro Bowl selections (1997-2000, '03) are the most by a Broncos offensive lineman in franchise history, was a key member of Denver's back-to-back Super Bowl teams in 1997 and '98. He helped Denver post the most rushing yards (29,131) and individual 100-yard rushing games (93) in the NFL from 1995-2007 in addition to tying for the league lead in individual 1,000-yard rushing seasons (11) during that time.
An honorable mention All-American as a senior at Boston College, Nalen attended Foxboro High School in Foxboro, Mass., and was born on May 13, 1971.
Is this the end for Tommy Nails?  My all-time favorite Bronco, other than Elway, might be hanging them up after this.  Much like Rod Smith, the heart is willing, but the body isn't able.  He's a definite Ring of Famer and should be a Hall of Famer.  He's not retired yet, but I'd seriously be surprised if he laced them up ever again.  Thanks for everything Tom.