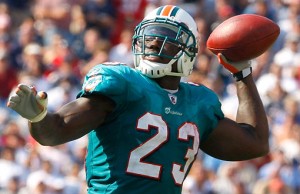 Denver Broncos coach Mike Shanahan is a notorious work-a-holic, rumored to research opponents weeks, if not months ahead of time. Instead of covering the entire NFL, what we at The Denver Bronco Talk Blog are doing is covering the NFL that you should care about. Every opponent the Denver Broncos face this season will get full weekly coverage from the first Sunday until the Broncos play them. As fans you will be able to focus on which player/team did what from week-to-week. Heck, you might even look better than Shanahan when the Broncos face off against a team that you've been scouting for the last six weeks.
Week 3 New Orleans Saints


The Saints had six starters out for this game, including their number one wide receiver. There were two keys on defense in this game, assign a man to Reggie Bush and shutdown tight end Jeremy Shockey. Guess what didn't happen? Bush ran wild collecting 148 total yards and two touchdowns, Shockey went for 75-yards on eight catches. The other important statistic is the fact that Drew Brees threw for 421-yards (in the first half, just kidding). Denver's defense saved the game, but that's about all they saved. D.J. Williams, Nate Webster and Boss Bailey at times looked incredible, other times they just looked as Bush whipped by them. Other teams that employ a back comparable to New Orleans, that the Broncos will face this season: Kansas City, Jacksonville and Miami.
Week 4 @ Kansas City Chiefs

Tyler Thigpen is the third starting quarterback in as many weeks for Kansas City, prior to the game it was revealed that the Chiefs had contacted the Cleveland Browns regarding the availability of Brady Quinn. The Browns replied that there was no availability, Quinn will remain a backup in Cleveland. Thigpen is definitely not the answer for Kansas City at quarterback and they know that. Even this early in the season, the Chiefs have already dedicated this season to getting their younger players as much experience as possible, basically seceding their season. That didn't stop Larry Johnson though, who finally showed up this season breaking one hundred yards after just 16 carries, he didn't stop there though and finished with 121-yards on 24 carries.
Ultimately, what hurt the Chiefs the most in this game, was Thigpen's three interceptions, against the Atlanta Falcons' defense. Thigpen will not likely get an easier defense to face off with this season and definitely not against Denver next week as Champ Bailey and Dre Bly come to town. Atlanta pounded the ball down the Chiefs' throat, passing only 18 times the whole game. This is something I wouldn't expect Denver to do, but they definitely have the means for whatever is necessary next-week.
Week 5 Tampa Bay Buccaneers


Brian Griese had Tampa off to a 14-9 lead going into halftime, before Kyle Orton led his Bears to a touchdown throw early in the third-quarter. Ultimately, Griese won the battle against his former team, throwing the ball 67 times! Griese completed 38 of those 67 for 407 yards, two touchdowns and three interceptions. The Buccaneers were atrocious running the ball, Earnest Graham and Warrick Dunn combining for 17 rushes and 47-yards. Prior today's game, Graham had averaged an incredible 8.3 yards per carry, the Bears held him to 1.3. Where the Buccaneers really win games is on defense, today the defense accounted for three sacks and two interceptions. However, I wouldn't exactly call Chicago's offense, "High-powered."
Week 6 Jacksonville Jaguars


The game against the Indianapolis Colts had more on the line than the surface would show. The Jaguars faced an 0-3 start if they lost and would fall very deep in the AFC South, not to mention that 0-3 teams hardly ever make the playoffs. Coming into Indianapolis the two-headed monster that is Fred Taylor and Maurice Jones-Drew had combined for a measly 97 yards this entire season. Today, they combined for 228 yards on 44 carries, allowing for a 41:35-18:21 time of possession ratio– the Colts had the ball for a total of three minutes and fifty nine seconds in the entire second half. Despite all of that the Jaguars still needed a last second 51-yard field goal from Josh Scobee to win the game.
Week 7 @ New England Patriots


Randy Moss was called out early in the CBS Pre-Game show. When tape was reviewed of his lackadaisical performance last week in which he loafed on blocking assignments and appeared either hurt or to not care at all during several passing routes. The Patriots gave up three sacks and a forced fumble to Dolphin's linebacker Joey Porter, who had called out Matt Cassel late this week. Â It seemed like Ronnie Brown was competing for the Heisman today, looking like he belonged on the 2007 Arkansas Razorbacks than in the NFL. The Dolphins needed only to follow the lead as Brown and Porter led their respective sides to victory over a very unimpressive New England team. Rookie Kevin O'Connell eventually replaced the ineffective Cassel and went three of four for 25 yards, at this point it's not clear who will be the quarterback by the week seven Broncos/Patriots match up.
Week 8 Bye Week
Week 9 Miami Dolphins


Prior to the game head coach Tony Sparano stated that the only way to contain Randy Moss was to hit him immediately at the line of scrimmage, in hopes of altering his route. Maybe the Patriots should have keyed on Ronnie Brown like the Dolphins were keying on Moss. Ronnie Brown was a nightmare for New England, he had three touchdowns before halftime. Taking snaps directly from the center, in a play similar to what Oakland had tried against Denver in week one– the Dolphins ran it to perfection though. Then to top it off, Brown threw for a touchdown in the third quarter! Chad Pennington who? Around the league chatter this morning, there was minor grumbling regarding the production of Pennington (who lined up as a receiver on the touchdown Brown threw and every other time Brown took a snap from center). The Dolphins dominated the Patriots and the credit goes to their offensive coordinator.
Week 10 @ Cleveland Browns


I mentioned earlier that the Browns received a call from the Chiefs regarding the availability of backup quarterback Brady Quinn. I'm guessing that the Browns answered, "Not no, but hell no!" As wonder child Derek Anderson has been met with a bit of reality, you're only as good as your strength of schedule. It's hard to say whether Quinn will be starting by week ten or not. As it looks right now, yes Quinn will be playing against the Broncos. Cleveland's piss-poor showing led to the Baltimore Ravens being undefeated going into week four (yet due to the hurricane, they're only 2-0). Anderson was good for only 125 yards in the air and went 14 of 37 for one touchdown and three interceptions. Dating back to last season the Browns have scored only five offensive touchdowns in their last six games.
Week 11 @ Atlanta Falcons 


Michael Turner once again blips on the football radar this week, rushing for 104 yards and three touchdowns. Roddy White also had a nice performance with five receptions for 119 yards and one touchdown. The Falcons won the game on the ground, calling twice as many run plays as passing plays (36 to 18) and rookie Matt Ryan threw his second touchdown which measured more than 60 yards this season. The Falcons aren't as impressive as their 2-1 record makes them seem, they have a treacherous run defense, giving up 127 to Larry Johnson. The Chiefs also had four offensive turnovers and that's not something that's going to happen week after week.
Week 12 Oakland Raiders


Until mid-third quarter the Raiders had not scored a touchdown. Yet, they were winning throughout most of the game, due to Sabastian Janikowski's three field goals. I don't think it is fair to count coach Lane Kiffin out just yet. Especially with the showing against the Buffalo Bills. Though, having seen the game, I have more questions than answers. How did the Raiders stay in the game in the second half with JaMarcus Russell throwing only three passes the entire half? How good are the Bills really? The Raiders defense forced four turnovers, three fumbles and one interception. They also held the dangerous Marshawn Lynch relatively in check, well he only scored two touchdowns anyway…
Week 13 @ New York Jets


Brett Favre facing off on Monday Night Football against the San Diego Chargers… Yeah, Favre can't save you this time New York, you're history. San Diego, despite coming into the game 0-2, is still one of the best teams in the NFL. They may have very well, faced off in week one and two against two teams that could be in their respective divisions' championship games come playoff time. Despite all of that, Philip Rivers threw his first pass for an interception that was returned for a touchdown, then nearly threw his second pass for an interception as well… From that point on though, Rivers was flawless. With Favre throwing two interceptions, he negated his three touchdown throws and with the Chargers holding running back Thomas Jones in check– the Jets never had a chance.
Week 14 @ Kansas City Chiefs

The Chiefs still have two of the best offensive players in the AFC in Larry Johnson and Tony Gonzalez, and another very nice option in young Dewayne Bowe, they just need to figure out how to get one of them the ball, every play on offense.
Week 15 @ Carolina Panthers


The Minnesota Vikings were able to knock the Panthers down a notch Sunday, but it was a tale of two of the NFC's best defenses. Minnesota's Adrian Peterson was held ineffective (by A.P. standards), as were Carolina's DeAngelo Williams and rookie Jonathan Stewart, combining for just 42 yards on combined 17 carries. Steve Smith, returning from his two-game suspension to catch the first pass of the game. Though he only had three catches after, he did manage 70 yards. 21 flags were thrown in the game and at least six of them were for false starts committed by the Panthers. Carolina's Julius Peppers also recorded his first sack of the season.
Week 16 Buffalo Bills


The Raiders proved that these guys are mortal after all, nearly winning in the process. Taking into account the Bills offensive production, it's a little baffling that the game was so close. However, with the high amount of turnovers on Buffalo's part it's not too much of a mystery. Marshawn Lynch is one of the best running backs in the league, but he hasn't cracked 100 yards yet this season. Will the Bills start to feature Lynch more in their offense or are they happy with the way Trent Edwards is slinging the ball around? The Bills defense allowed only two third-down conversions on 12 attempts and gave up only ten first-downs the entire game to the Raiders.
Week 17 @ San Diego Chargers


Philipp Rivers got to face off against Brett Favre and Rivers won, Favre had a decent showing, but ultimately Rivers took over the game and LaDainian Tomlinson pushed his way back in from obscurity scoring twice, but still not going for over 100-yards. I'm beginning to think that this week 17 match-up will matter for the Chargers and not for the Broncos however.
Week 3, another breathless one. Standing a top the NFL currently are the Dallas Cowboys, New York Giants, Buffalo Bills, Denver Broncos, Tennessee Titans, Philadelphia Eagles and Baltimore Ravens– who would have predicted that? Where do you expect Denver to sit on the power poll this week?