May 1st, 1999, four screenwriters were credited with a screenplay which would be the final draft turned in prior to the shooting script. The four men were: Jamie Williams, Richard Weiner, John Logan and Alexander Payne. Logan went on to write such films as the The Last Samurai, The Aviator, Sweeny Todd, and the still to be released (yet will be Oscar nominated, get your cheat charts out now), Lincoln. Payne would go on to direct a small indy film and win an Oscar, the film was called, Sideways, some may know him better for his Adam Sandler film, I Now Pronounce You Chuck and Larry.
The incredible amount of talent pumped their collective talent into one film though. That film eventually was directed by the great Oliver Stone and became known as Any Given Sunday a film that currently rests in my personal top ten greatest movies of all time list. 
As you know, Any Given Sunday starred (amongst others): Al Pacino, Jamie Foxx and Cameron Diaz. A bit of an interesting side-note, which I have mentioned before, Al Pacino studied, then reinterpreted Denver Broncos coach Mike Shanahan for his role as coach Tony D'Amato. Pacino studied Shanahan during the Broncos 1998 season, a season in which the Broncos ultimately were Super Bowl Champions. 
Back to the beginning– These incredibly talented scribes, who on the surface could not have known anything about the game of football, were somehow able to conjure enough from personal experience and research to create definitive football film. Where it applies, amongst all of these brilliant writers, actors and one of the greatest directors in the last twenty five years. Where did they pull their focus? Denver. In talks between Pacino and Stone, they chose Shanahan to focus on…
In one of my favorite scenes in the film the backup quarterback Willie Beaman confronts his head coach Tony D'Amato as the team heads into the playoffs– hot off their last two wins:
                      WILLIE
                      (derisively)
Sure! I guess that was another guy winning the last two games. I put points on the board! he lost four in a row. I lead by doing!

                      TONY
You kicked ass, kid, but Cap Rooney has been 'doing' it for years and he goddamn deserves his day in the sun, so don't start..                      

                      WILLIE
And I deserve the bench, right?!

                      TONY
… He's been the quarterback of this team as long as…

                      WILLIE
And his time is over! And yours is too… 'less you start taking some risks! Start playing the game the way it is now. It ain't all those pictures on the wall anymore —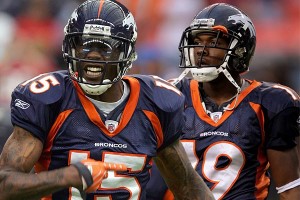 Brandon Marshall & Eddie Royal
Once you've soaked that all in, imagine yourself having a conversation with Mike Shanahan following last season. You're speaking to a man that has indubitably changed the era, of this great game that we've called football. To break it down even further, read into the symbolism, just a bit. With Tony being the, 'Old School,' Vince Lombardi and Willie representing reality, the, 'New School,' Michael Vick/Devin Hester, if you will. 
Now put yourself into Shanahan's shoes following the 2007 effort. A season when the Broncos could have just as easily been 10-6 or 4-12… Close wins that could have been loses and close loses that could have been wins. One would have pushed the team into the playoffs and one would have pushed the Broncos into the top ten in this years' draft. 
Yet Shanahan has survived despite it all. And respect will be paid, it has been two long years, that Denver has fallen. Yet, in two-years the team has gone from the surprising 13-3 all the way into deep obscurity. There wasn't a damn sports reporter in the world that agreed when I was predicting 13-3 this season for the Denver Broncos. 
And there were conversations, evaluations and soul-seeking. Decisions were made and ultimately Shanahan gave up more, while appearing to take on much more; unloading an offensive coordinator, defensive coordinator and a General Manager in the offseason. Pop quiz hot-shot, who is the current Broncos Offensive Coordinator? Exactly, yet Shanahan trumped them all and now Jeremy Bates is not quite the name people will be calling on this offseason for head coaching jobs, but at this point next year… Those in the know will be begging for him, the way they were in 1999 for Gary Kubiak, or the way they wanted New England Patriots Josh McDaniels the 2007 off-season. 
I told you last week that there was something in the heir and now Jay Cutler's leading the league in passing. However, now, the heir may just be Jeremy Bates, who came via his father Jim Bates (remember him? Fans alike shunned him, prior to his departure from Denver). Out with the old and in with the new as it may be. Where as Jim may have represented the romantic, Lombardhi era– Jeremy represents the modern era, the Shanahan/Belichick era. In which a quarterback has six able targets on each passing down, an era where a quarterback prefers a shotgun formation over taking the ball under center. An era in its infancy that has the potential to surpass the Tom Bradys, the Peyton Mannings, even the Michael Vicks… An era that may be, for the first time, in a long time, ahead of what the defense can defend against. 
There is something in the heir, and as spirtual activist Marianne Williamson said, in her book, 'A Return to Love,' "Our worst fear is not that we are inadequate, our deepest fear is that we are powerful beyond measure."