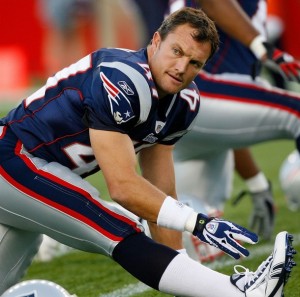 Does that even look right? Come on… We all know how John Lynch left, with fans of the Denver Broncos confused and shocked, ultimately ending up with just a bad taste in their mouths. Then Lynch signed with the (at the time) shoe-in Superbowl contender New England Patriots. Was he interested in having a shot at starting this season or was he interested in just getting back to a Superbowl, had the fans been had?
I was at his first game as a Patriot, it was against the Tampa Bay Buccaneers. He was introduced as the starting strong safety during that preseason contest, to which the crowd gave a standing ovation, yet he didn't start. In his first week with the Patriots he did play, but in all honesty looked very lost. Running around, attempting to do his best inside of a system he had yet to learn.
This week the Broncos worked out three safeties in practice. Glenn Earl, Vernon Fox and Daren Stone, of the three Earl is the only one who has had significant starting experience starting for the Houston Texans from 2004-06. The thing to keep in mind is that all of these players were brought in, as Denver sits with not one, but two safeties on their practice squad (rookie Josh Barrett and Roderick Rogers).
So what gives? As it stands, Denver remains with four safeties on their active roster, but with Hamza Abdullah and Marquand Manuel both having lingering injuries, is it all that likely that John Lynch couldn't come back welcomed in Denver with a chance to start? At the very least, he remains a supporter of the Darrent Williams Foundation and a positive contributor to the community. Let's get him back in orange and blue and hopefully back to Tampa.