Posted Fri Sep 5th by Monty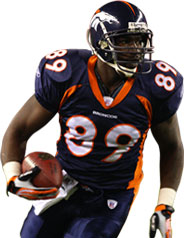 The Denver Broncos elected team captains after practice Friday, and a mix of old and new will be donning the 'C' patch. Quarterback Jay Cutler and cornerback Champ Bailey were elected captains again, joining newcomers tight end Daniel Graham and linebacker D.J. Williams.
Longsnapper Mike Leach was elected as the special teams captain, which Head Coach Mike Shanahan indicated will change week-to-week.
What? No Tom Nalen? It's more silent-player-bias, I tell ya. All #66 has to do is stare at you and you'll shape up right quick.