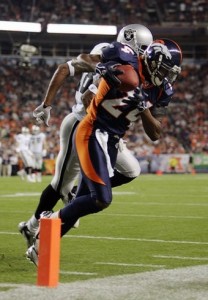 Anticipation
an·tic·i·pa·tion
\(ˌ)an-ˌti-sə-ˈpā-shən\
noun
14th century.

1. When a fan peeks at a recently released Denver Broncos schedule and sees opening week- "Monday Night Football Denver Broncos at Oakland Raiders."
2. The thought of Champ Bailey going one-on-one against that traitor Javon Walker, shutting him down and shutting him up.
3. Getting to see Brandon Marshall going one-on-one against Nnamdi Asomugha.
Enough to raise one's blood pressure, whether you be a south stander or one of the guys with the silver cones on their shoulders.
It's not likely that fans will get to see either situation though. Walker is good to go, but, he'll be at about the same capacity as he was during week 17 (for the Broncos) against the Minnesota Vikings. This creates another scenario, where Bailey will cover another former Bronco, Ashley Lelie AKA Javon Walker 1.0 (who will be fourth on the depth chart for Oakland). Instead of Marshall, Asomugha will square off against Darrell Jackson. To make this game even less exciting, I don't think there's a fan in Denver who is anticipating Jackson's play (except me, maybe). However, please, have no fear, I've already played two seasons on Madden '09 and Jackson is awesome, I swear… Just kidding.
Reality
re·al·i·ty
\rÄ"-'a-lÉ™-tÄ"\
noun
1550
1. Giving credit where credit is due: This will possibly be the best cornerback duo Jay Cutler will face all season (unless Philadelphia makes it to the Super Bowl, again with the kidding).
2. An immediate measure of whether or not Cutler will be the third-year phenomenon that he is anticipated to be.
3. Rookie Eddie Royal drawing a very good corner in DeAngelo Hall, all game.
The more and more you analyze this game, it could not have been any more perfect for a realistic gauge of how Denver will be this season as a team. We know where Denver stands versus the pass, with a stellar duo in corners Bailey and Dre Bly. The fact that JaMarcus Russell is starting- we could care less about it being his first full year and that he has displayed a lack of passing ability early. Let's see him run and let's see Denver's revamped linebacker corps react.
Let's see how improved Denver's defensive linemen really are, going up against the very good Justin Fargas and the Oakland's rookie phenom Darren McFadden. Is Denver's defense expecting to go up against a better one-two punch this season? Who knows, McFadden hype could die out immediately and Denver's defensive line would deserve full credit. So let us dream.
Oakland's defense is nothing to shake a stick at, part of the reason that Asomugha has looked half as good as he has, is the Raiders ability to create pressure in the trenches. So there we have it again, Oakland's defensive line versus Denver's brand spanking new offensive line. Will Gerard Warren embarrass Shanahan again for trading him? Or will Casey Wiegmann shut him down, like he did when Wiegmann played for the Kansas City Chiefs?
The most glaring rivalry of all- will Mike Shanahan continue to own Al Davis' Raiders?
I literally haven't seen one mention of, "Raider Week." Remember when it used to be a big deal? Then last year, when we barely beat them and then they beat us; all of a sudden no one cared that we're playing, "The got damned Raiduhs!"?
So where is the love nation? Did the Broncos forget, "Raider's Week?" Let's make it Raiders weekend, hell, I already have in my complex. What are you looking forward to this game? What are your interesting matchups and who do you see as having a make or break week?