Posted Thu Sep 4th by Monty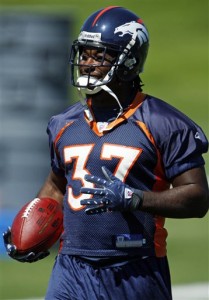 UPDATE: Apparently undrafted rookie tight end Brett Pierce also reached an injury settlement and was waived. Best of luck, Brett.
The Denver Broncos have officially released fullback Cecil Sapp, the Denver Post reports. Sapp was initially placed on Injured Reserve to start the season, and has been working with the Broncos to reach an injury settlement and play elsewhere.
"I've got about three teams interested but I have to get healthy first," Sapp told the Post.
Sapp suffered a strained hip flexor in the Broncos' final preseason game in Arizona. The Colorado State product was originally signed by the Broncos as an undrafted free agent in 2003. He became the starting fullback for the Broncos in 2007 after Kyle Johnson was among the surprise cuts out of training camp.
"Cecil is excited to get his release and start playing for another NFL team," Sapp's agent David Canter said.
Cecil "The Diesel" was a monster in college, but never quite reached that level in the pros. He was good on offense and even better on special teams, but never truly "great." Best of luck to you, Cecil.
(Over/under on when Sapp signs with the Texans is preliminarily set at 35.5 hours).