Posted Wed Sep 3rd by Monty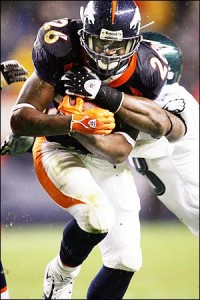 In a quick follow-up to last night's hilarious news involving Tatum Bell, Rudi Johnson, and duffel bags, Bell told reporters that he is innocent of any wrong doing.
"I ain't no thief," Bell told the Free Press in a phone interview. "I ain't never been one, and I ain't never going to be one. It was all a misunderstanding.

"You can ask anybody I played with for all my years or anybody that know me, man. They know I ain't never stolen nothing from nobody or had those kind of intentions."
An unconvinced Johnson said his bags were missing his identification, credit cards, about $200 in cash and his underwear. "He left the money clip, but he didn't leave no money in it. He should have took the clip, too. …"
Meanwhile, PFT is reporting that the Texans ain't got no interest, ain't never been interested, and ain't never going to be interested in Bell's services, contrary to previous reports.
Bell: 'I ain't no thief;' but Lions' Johnson doesn't believe him [Detroit Free Press] (via)