Posted Mon Sep 1st by Monty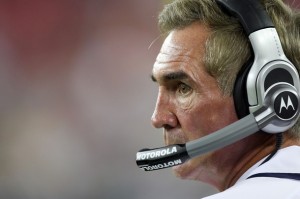 BroncoTalk's week-long Denver Broncos 2008 Season Preview kicks off today. We'll bring you daily articles to get you ready for the 2008 season. Enjoy.
Head Coach Mike Shanahan closed the 2007 Denver Broncos 7-9 season by publicly pinning the blame on himself. Saying the team had the talent to win 10 games, Shanahan indicated he needed to do a better job preparing his players and a better job coaching to exceed that threshold.
"Well, I'm just going back to me," Shanahan said in his season-ending press conference in January. "I'm in charge of this thing and I just think if I would have done a decent job coaching, we would have won 10 games or more. And so it goes back to me."
His actions indicate he didn't consider himself the only one to blame. Two of the top-decision makers for the 2007 Broncos, Assistant Head Coach/Defense Jim Bates and General Manager Ted Sundquist, were shown the door before April. Bates was offered a position as linebackers coach but ultimately resigned after crafting the worst Broncos defense in several years. Sundquist's firing was a surprise at first, but the reasoning became clear as the growing dissonance between he and Shanahan became public.
Vocally, Shanahan may look inward for answers for the Broncos' struggles in 2007, but professionally, he pinned the blame to an even greater extent on these men.
This leaves Shanahan alone at the top. He is solely in control of this team, and the group will only go so far as his coaching can take them. If they fail, only Shanahan is left to blame. If they triumph, Shanahan deserves lofty praise.

Shanahan doesn't shy from this type of pressure. In fact, he embraces it, and at times, places even more upon himself. His training camp declaration that the Broncos "will not miss the playoffs" raised eyebrows – not only for the statement itself, but for the source from which it originated. Mike Shanahan making season predictions? Simply unheard of.
While it isn't accurate to say Shanahan was on the proverbial "hot seat" heading into this year, those comments may have seated him firmly on it. If the Broncos struggle again this season, and fail to make the playoffs, Shanahan's playoff promise will be mourned and echoed across the Rocky Mountains. If they struggle mightily, these comments will lead to proclamations that Shanahan is no longer in touch with his team, and is no longer a suitable judge of talent.
There's no doubt that Shanahan knew all of this when he went on local radio and made that statement. He knew the stakes – it's the very reason he's never said anything similar in the past. His confidence is contagious, sparking something in fans and players and the community in general. Maybe that was his plan all along. While I was hesitant to proclaim playoffs for the Broncos in 2008 throughout the offseason, Shanahan's comments singularly convinced me that Denver will be playing meaningful football in January. I'm on board, Coach. 11-5, here we come.
A return to the playoffs – particularly a deep trip into the contest – will only confirm what I already believe: Shanahan is the right coach for the Denver Broncos, now and for years to come. His bold moves this offseason show he has that same confidence in himself.
He's made his stance; now it's time to deliver.
Photo courtesy Lisa Blumenfeld/Getty Images