Posted Mon Sep 1st by Monty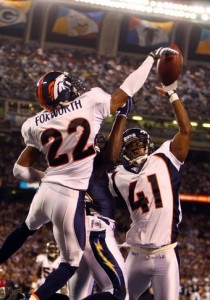 (Donald Miralle/Getty Images)
Bill Williamson of ESPN reports that Denver Broncos nickel CB Domonique Foxworth is expecting to hear from the team regarding a trade in the near future.  While no information involving potential suitors or compensation is available, the 2005 third round pick is taking the news in stride.
Foxworth said the Broncos are handling the situation with class.

"They didn't have to give me a warning," Foxworth said. "They are being classy about it. I'm not upset about it at all."
Williamson goes on to speculate that the Patriots, Redskins, Saints, Rams and Browns could be interested in the services of a cornerback.
A Foxworth trade has been rumored since three days after we drafted him – okay, not that long, but it feels like it. The only thing surprising about this news is the timing – we're not exactly stacked at depth at cornerback, with only Karl Paymah and rookie Jack Williams filling the depth chart behind starters Bailey and Bly. We'll keep you posted as this story develops.