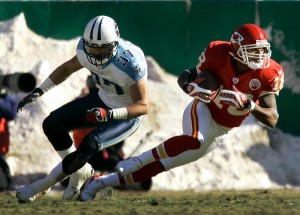 CarolinaGrowl.com is reporting that recently released wide receiver Samie Parker has been signed to the Carolina Panthers.
"He's a guy who has speed and quickness," Fox said. "He's returned the ball before as well as being a receiver. We've been a little nicked up at that spot, so we'll have a little look-see."
Anemic at the wide receiver position and looking for Parker's quickness to possibly help out on special teams, it looks as if he will be able to continue his career in Carolina. Fans will remember that the Panthers find themselves in a similar situation to the Denver Broncos, with their number one wide receiver, Steve Smith, suspended for the first two games of the season.
The Denver Broncos face the Carolina Panthers on December 14th, 2008.
Good to see that the former actual fastest man on the Denver Broncos has been scooped up immediately and appears to be heading to a club that could use his talent. Essentially the Broncos and Panthers are swapping receivers; with Keary Colbert (formerly of Carolina) most likely having a similar spot on the depth chart in Denver that Samie Parker will hold in Carolina.