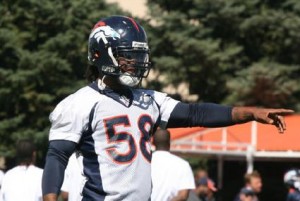 It looks as if Nate Webster has beaten Niko Koutouvides out at middle linebacker. Coach Mike Shanahan announced just that this afternoon and added:
"It was a very close competition," Shanahan concluded. "Both guys I look at as starters. Both guys will help as special teams but it was nip and tuck."
Shanahan went on to say that Koutouvides would play the entire game on Friday versus the Arizona Cardinals; to get a better feel for the defense. Basically answering the question some may be asking, before they were able to ask it. Koutouvides will play backup to Webster because he was not able to gel with the defense just yet.
One area that will immediately improve, due to this "nip and tuck," as Shanahan refers to it, will be the Denver Broncos special teams. Koutouvides is and always has been a formidable force on kickoff and punt returns. Stopping the run and preventing teams from starting drives on their own 40-45 yard-line was the primary reason the Broncos spent so much bringing in Koutouvides and getting all those rookies during and after the draft.
Nate Webster was second last season for Denver in tackles and 33rd in the AFC with 87 as the Sam linebacker.
From what I saw this seems to be the right move, I've explained it before, but Nate Webster seems to just run around busting skulls like a mad man. Where as Niko Koutouvides seemed to play with more finesse, but he got beat… a lot, on passes and that can't happen.