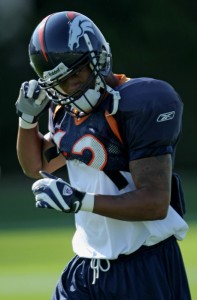 The Denver Broncos announced that they have released veteran wide receiver Samie Parker, defensive tackle Josh Mallard and wide receiver Lorne Sam.
Samie Parker came to Denver as a free agent via the Kansas City Chiefs, this was two days prior to the team signing another veteran receiver Darrell Jackson (April 16, 2008). Jackson is expected to start the season opposite rookie Eddie Royal and then Brandon Marshall; once Marshall has returned from his suspension.
Josh Mallard is a bit of a surprise as he finished last season very strongly, playing in only four games but accumulating three and a half sacks as a defensive tackle. During training camp and into preseason Mallard saw time with the first-team defense in passing situations mostly. The Broncos did say that if Mallard were to pass through waivers, they'd be willing to give him another look.
These, along with adding rookie defensive tackle Carlton Powell to the injured reserve brings the Broncos down to 76 players; they must be at 75 by tomorrow. So expect news of one more player very soon.
What are the thoughts Bronco fans? Good cuts, bad cuts? Someone you would have like to have seen on this list that wasn't here?
(Photo by Doug Pensinger/Getty Images)