Posted Wed Aug 20th by Monty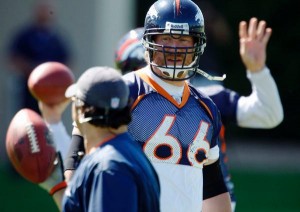 In what is being called "nothing serious" by Denver Broncos Head Coach Mike Shanahan, veteran center Tom Nalen will undergo arthroscopic knee surgery for the second time in two months. Nalen is expected to miss the rest of the preseason after returning to practice Monday.
"What we are going to do is have Tom get his knee cleaned up a little bit — more preventative than anything else," Shanahan said. "It hasn't healed the way we would have liked."

"Hopefully it's nothing serious and can alleviate some of the swelling and the pain and hopefully he is ready to go by the first game."
Casey Wiegmann, a new addition via free agency from the Kansas City Chiefs, will continue to start in Nalen's place. Remarkably, if all goes well, Nalen will still be available for our Week 1 match against the Oakland Raiders.
Wiegmann has done a very good job covering for Nalen in the preseason thus far, but we're still a better team with Tommy Nails in the lineup. Maybe I'm biased – he is my favorite Bronco besides John Elway, after all – but I find that my thinking and my feelings are very similar to those I had in '99. The plain truth of it all is staring at me straight in the face, but all I can do is look away, hoping my guy has a year or two left in him. So I'm crossing my fingers that this surgery is the final step Nalen needs to get healthy, and back on the field.