Posted Fri Aug 15th by Monty
I'm changing this up again, after over a year. No more one-sentence quick hits of about 8 or 9 links long. Instead, 3-4 paragraphs discussing only the good news items of the day, then maybe a few quick links afterward. Just kicking the tires on this; let me know what you think.
Create-A-Caption
Yesterday's winnder: Arden – "…and then Al Davis makes all the coaches go like this when he enters and exits the room…" Honorable mention: JD, Herc.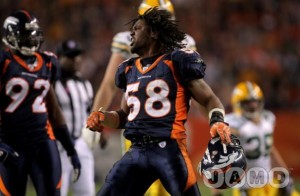 Nate Webster, au natural, with Doom looking on. (Getty Images)
Your wittiest, most cleverest captions in the comments…