Posted Tue Aug 12th by Monty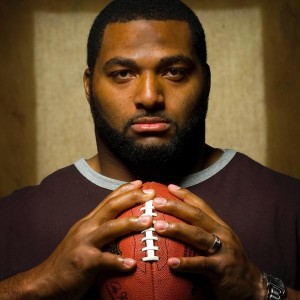 It had to be the most disappointing event in training camp. Montrae Holland, the Denver Broncos' starting right guard for 16 games in 2007, reported to camp significantly overweight.
Holland was expected to take a larger leadership role in the offensive line, representing the team's only returning starter at the same position from a year ago. He was hands down the best offensive lineman on the team last year. Now that he's gotten back to his playing weight, he's left to practice with the second stringers.
And deservedly so. You don't just promote someone who slacked off during the offseason and hurt his team by reporting out of shape. But the talent is undeniable – the potential tempting. Assuming Holland returns to 2007 form, the Broncos offensive line will be better for it. How can they deny improving themselves? Furthermore, how do they make room?

Taking his place at right guard has been Chris Kuper, who competed for, and lost, the starting role last year at training camp. Kuper has improved his game from last year – given one preseason game with which to judge, it's tempting to leave Kuper at RG and just let Holland sit the bench. It's definitely an option – although I still believe Holland is an upgrade.
Kuper was originally slated as the starting right tackle throughout mini camps and heading into training camp. Ryan Harris inherited the job for which he was to compete once Kuper had to slide over to right guard. He's performed admirably – although the four penalties he committed during Saturday's preseason game certainly did little to settle any fears.
Neither of these young men deserve to be benched – they put in the effort and hard work year round that Holland obviously did not. That, more than anything, is a compelling argument to leave Holland sidelined. But as I said before, I believe Holland is an upgrade at right guard over Chris Kuper. I believe the coaches have taken it to him enough at practice for the past two weeks, and that he appreciates this chance they've given him. What's more, I don't believe promoting Holland in the next few days would send a wrong message – he paid for his mistake, but it hardly behooves the training staff to punish Holland. That, more than anything, would send a wrong message.
In my opinion, the Broncos should move Kuper to right tackle. Now. Time is of the essence in this situation, because Kuper needs as many snaps at this new position as possible. Let him compete with Harris for the starting snaps, and potentially win the job. If he doesn't, the Broncos will have an extremely high quality backup at both RG and RT, in one player.
The regular season is less than four weeks away. Waiting even a week to make the move would hinder Kuper's transition that much more. I believe Holland has Pro Bowl potential in his second year in Denver, and everything I'm saying is predicated on that belief. Putting him at guard and letting Kuper and Harris fight for the right tackle, while unsettling on the surface, makes all the sense in the world to me from a competitive standpoint. I believe the Broncos will be better for it, and have a better chance of dominating at the point of attack with #70 in the lineup.
Do you agree? I'd love to hear your thoughts. Take the poll, and dish it out in the comments.

Loading ...
Photo Credit Cyrus McCrimmon – Denver Post