@
First off, I can't tell you how sweet it is to finally type "DEN vs HOU" in the subject line of a post! Hurrah! The Broncos will finally be on the field playing football TOMORROW!!!
On a personally note, I'll be traveling tomorrow. That means my happy ass will have to wait for the NFL Network replay on Sunday night (10pm for anyone in a similar situation). And while that's annoying, I won't have to wait long before this won't ever be an issue again. That's right… I've officially broken down and purchased DirectTV. Now, I can get even lazier as I won't have to get off the sofa and drive to my local sports bar each Sunday! For anyone interested, they're having a pretty good deal right now. I think the plan we're on is something like $105 per month (after the discounted introductory offers expire). That's about what we were paying for cable TV so it's a win-win at my house! And now that I've provided a plug for their service, you'll have to give them my name as a reference when you sign up! lol
Ok, on to FOOTBALL! Here are the things I'm really looking forward to seeing tomorrow when we face up against Houston (I also have included a prediction or two):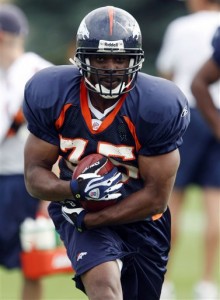 Young headlines Youth at RB -
We all know Selvin Young will get the first crack at RB. And I think we all know he can run the ball. His issue has been durability not talent and that won't be proven in one game in the preseason. Ryan Torain is out with a broken elbow and Michael Pittman won't play tomorrow so that leaves plenty of playing time for second year Andre Hall and rookie Anthony Alridge. I'm excited to see both Hall and Alridge in game-speed situations. But I would be dishonest if I didn't say I was most excited to see Hall out there.
Last preseason I thought Hall was having a better camp than Young until he got hurt. That injury knocked him out of the preseason action and, I think, lost him Young's spot last year. This preseason Hall has continued to look good and tomorrow he will get a chance to show off his stuff.
Prediction: Look for Alridge to make a HUGE play tomorrow. I think it will be down-played by the media as having been done against 3rd-4th string guys on Houston's defense, but it will still be fun to watch!
The Man in the Middle -
I kinda like Webster a tiny bit better than Niko. However, I'm really stoked to see BOTH of them play tomorrow. There's nothing better than seeing two hungry linebackers trying to out hit each other! I'm sorry Houson… this one's gonna hurt. :)
Prediction: Webster loses his helmet… twice.

New faces on the ole D-line -
So Bob's new defense has a huge first challenge ahead of them – facing the best darn O-line coach of all time, Alex Gibbs. So what to expect?
Let's see… We've shed some pounds from the middle of the D-line so don't expect to see 'the big blue blob' this year. Sam Adams(350), Amon Gordon(310) and Antwon Burton(325) are gone. And tomorrow it looks like 2nd year Marcus Thomas(305) and 6th year vet Dewayne Robertson(305) will be our starting defensive tackles. These guys should both bring a bit more speed to D-line. We'll also get a good chance to see last year's draftees, Crowder and Moss on the ends. It will be interesting to see how they've developed. Nine and ten year vets John Engelberger and Ebenezer Ekuban will all get some time to prove they still have plenty of spunk left to compete with all this youth along the line. And, of course, I can't fail to mention Elvis Dumervil. How many sacks will he get before leaving the field? I'd say if he gets two early, they'll sit him…. no need to risk injury.
Prediction: I have to give this one to Alex folks. I think we'll see some good pressure from our ends, but I think we will come out of this game still questioning our run-stopping ability. Even if that's the case, I won't worry. Alex Gibbs is simply the best zone blocking instructor to ever live – there's no shame in losing that battle.
Royal Treatment -
I am very excited to see this kid get out on the field! I look forward to seeing him on the first play of the game (returning the ball for a TD of course) and I want to see him kick butt all game across from Marshall. HOWEVER, the thing I want to see more than anything else is for Eddie to avoid injuries. He's small and light still by NFL standards and I do not want our speedy new wideout damaged in the preseason.
Prediction: Ok this one is more a suggestion… I suggest that Shanahan NOT play Royal too much at retuner this preason. I know that's 'crazy talk,' but with Marshall out the first two games we need to make sure Royal is healthy for games #1 and #2 at all costs.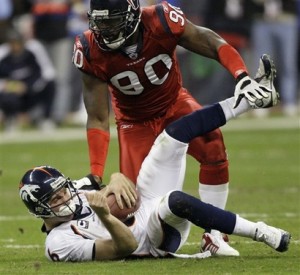 Let's hope we can prevent this from happening again…
The tale of two Ryans -
Ryan Clady will be our new LT. Ryan Harris will get to start over on the right side. So, how will these two do vs Houston? Word out of camp has been mixed on Harris, but Clady has been a star of camp. However, Clady will be facing Mario tomorrow… so that should be a more impressive battle than darn near anything else happening on the field! I can't wait! :)
As you know, Tom Nalen won't be snapping the ball to Cutler this weekend – Casey Wiegmann will be. So, we have some youth and a new Center… How does that all pan out for us?
Prediction: I think Wiegmann does well. He's a vet and fits our style of play very nicely. I think Harris will struggle a bit – sorry Harris fans. And as for Clady. I think he will handle Mario all game. That said, look for Mario to pull one or two fantastic plays during the game. He's just too good to beat every down for sixty minutes. :(
Enough Prattle about Prater -
I've had enough of the meaningless chatter about Matt Prater. He's been beat up worse than a QB following Elway and even though he's clearly proven he has the leg and consistancy to compete at this level we're now seeing article asking "but can he do it when the game is on the line?" I feel like posting a 'leave Brittney alone' style youtube video for Prater. Give the guy a break already. Instead of worrying about his ability or his experience, let's just get excited that we have a kicker that can nail it from nearly 70 yards out, again.
I for one, just want to see this kid boot the ball tomorrow and build on his impressive training camp success.
Prediction: I promise you that if Prater misses just one FG, the article in the Post will be "Prater Chokes" and if he makes every last one the article will include "but it's only the preseason."
If you made it the bottom of this post, congrats. You deserve a prize… unfortunately, we don't have one for ya. So instead, feel free to post your thoughts and predictions. I'm very interested in what you all are looking forward to and what you think we can expect on Saturday.
GO BRONCOS!