Posted Tue Aug 5th by Monty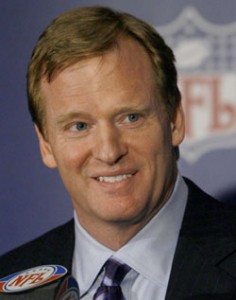 Hello, my name is Roger Goodell.  Most of you know who I am, but for those who don't, I am the Commissioner of the National Football League.  My responsibilities include ensuring the integrity of the game itself is maintained, as well as many of the executive financial and legislative decisions that need to be made for The League on a daily basis.  As you can imagine, with a League of over 2,500 players and thousands more coaches and staff members, I am a very busy man.
I understand that Broncos fans have become irritated at the length of time it is taking for a decision to be made regarding Brandon Marshall, but please know that I have looked at the information, met with Brandon, and am in the final stages of reviewing his case.
Quite simply, my other responsibilities to The League have required my immediate attention.  Only today, Brett Favre's SUV was seen parked in his parking spot at Lambeau Field.  His SUV.  Parked.  In his spot.  At Lambeau Field. Obviously the whole of my attention had to be devoted to this matter.
Also, Marshall's violation of League rules on the field last year must be considered.  I mean, the guy threw snow.  It's a serious violation.  We can't have our players throwing snow and being a bad example to kids.
I promise you Broncos fans, as soon as my schedule permits, and Brett Favre takes a nap, I will reach a speedy and totally unfair decision regarding Brandon Marshall's suspension.  Thank you.