Posted Tue Aug 5th by Monty
The last time the Broncos had a dual threat wide receiver-return specialist like Eddie Royal was over 30 years ago, and his name was Rick Upchurch.  [Denver Post]
With 4th round pick Marcus Thomas and 3rd rounder Ryan Harris starting on Saturday, the 2007 draft class is all topsy-turvy.  [DPO]
An extremely candid interview with Thomas about his rookie season – a real eye opener regarding his playing shape last year.  Great read.  [RMN]
Andre Hall isn't letting the new running backs take his #2 spot. [Rocky Mountain News]
Nothing like pointing out the obvious:  Matt Prater still has a lot to prove.  [DPO]
DPO Mailbag covers John Lynch, Jay Cutler, and more. [DPO]
Houston preseason info.  [DenverBroncos.com]
UPDATE: Yesterday I mentioned Sirius NFL Radio will be visiting Broncos camp.  It's moved up an hour to 10AM (meaning it's already underway).
Create-A-Caption
Yesterday's winner – mikebirty:Â  "Thank you for flying packers airlines. The emergency exits can be found here, here and the New York Jets." Honorable mention: Danish Denver Fan, E. Halsey Miles.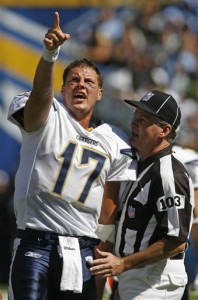 Oh, so many possibilities… (AP Photo/Jack Smith)
Your wittiest, most cleverest captions in the comments…