Posted Mon Aug 4th by Monty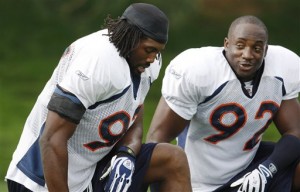 Bailey and Dumervil. (AP Photo/David Zalubowski)
It seems some of the Denver Broncos players who have been nursing injuries appreciated Sunday's respite from the daily grind. Strong side linebacker Boss Bailey returned to the practice field Monday morning after missing Friday's and Saturday's practices with an inflamed knee, and rookie FB Peyton Hillis also returned after a week-long hiatus due to a hamstring injury, the team's official blog reports.
Bailey plays a crucial role in the team's defensive re-tooling, and Hillis was looking impressive at the fullback position before going down. It's good to see these new guys back on the field.
Injury Blitz: RG Montrae Holland was hoping to return to the field Monday, but was still working with strength and conditioning coach Rich Tuten during the morning session… C Tom Nalen still rests with knee pain… SS Hamza Abdullah sat out practice with a groin injury.
Glad to see those guys are back – Hillis has some catching up to do if he's to become the opening day starter ahead of Cecil Sapp. What was once called a "slight groin injury" to Abdullah has now seen him miss two full practices in three days… not good. And with each day that Holland doesn't see the field, the likelihood of him even making the team continues to wane.