Posted Sun Aug 3rd by Monty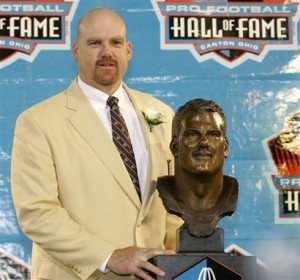 Gary Zimmerman's induction into the Pro Football Hall of Fame Saturday was well-deserved and long overdue. The dominating left tackle never sought the spotlight; he just went out and did his job at a phenomenal level. Teammates, coaches, fans, and anyone with a set of eyes agrees: Zimmerman completely eliminated the threat on his side of the defensive line to near-perfect consistency.
You came to expect that from Zimmerman. It was a given, week after week, that the opponent's right defensive end, traditionally their strongest pass rusher, would be a non-factor in the upcoming game. You came to assume it – as naturally as you expect the sun to rise in the morning or the stars to come out at night. And it wasn't the words that Zimmerman spoke that gave you that belief – no, the Broncos offensive linemen never spoke to the media – it was the consistent performance on the field that left you knowing the left side was anchored down. There were no surprises with Gary Zimmerman.
Until Saturday, anyway. Until his enshrinement speech in Canton, the soft spoken giant had rarely forced a raised eyebrow. It's safe to say that Saturday's ceremony was the most surprising performance Zimmerman had given to date.
He told jokes.
"In 1980 I signed my letter of intent with the University of Oregon. I chose Oregon over other schools because it was the only college that would sign me as a middle linebacker. While dressing down for the first practice, I thought how strange it was that I was No. 75.

"After practice the coaches pulled me aside and explained that my future might be on the offensive line. The Dalai Lama once said that not getting what you want is sometimes a wonderful stroke of luck. The point I'm trying to make here is that nobody starts out wanting to play the offensive line position; it's just where we end up."
Zimmerman was actually drafted as a guard out of college, but chose to play for the USFL. After beginning his NFL career in Minnesota, Zim finished in Denver, spending 5 seasons with the Broncos that culminated in the franchise's first Super Bowl victory.
Zimmerman is the second Bronco to be enshrined in the Pro Football Hall of Fame, following John Elway's induction a few years ago. Next year, Shannon Sharpe will enter his first year of Hall of Fame eligibility, and many (including myself) believe he should easily be a first ballot Hall of Famer.
In the meantime, Zimmerman might not be joined in the Hall by many brethren who also donned the orange and blue, but he can rest assured that he's among the greatest to ever have played the game. It's a humbling proposition for a player who repeatedly insisted that he'd be nothing without his teammates, but there's no doubt in this fan's mind that Zimmerman is now right where he belongs.
Enjoy the photo gallery of Zimmerman's Hall of Fame induction, after the jump.