Posted Sat Aug 2nd by Monty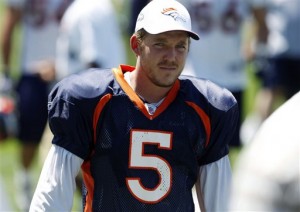 The word out of training camp Saturday morning is that kicker Matt Prater killed it in practice. Killed it. He reportedly went a perfect 11-for-11, including three kicks from beyond 50 yards – a 59 yarder, a simulated "for the game" kick at 54 yards out, and a whopping 68-yard field goal, which went through the uprights to uproarious applause from the crowd.
Jason Elam who?
Of course, it doesn't mean a thing once the stadium is filled and the scoreboard lights are on. Prater was the first to acknowledge this:
"It felt good to just show the team that I can do it and give them some confidence in me so in the game when I do have a chance to have a game winner. I still have to do it in the game, there will still be some questions but hopefully I'll get the opportunity and do well in the game."
I was hoping to get a serviceable kicker out of training camp… but a potential stud? Talk about a bonus. Let's see how he does in preseason games and we'll give the final verdict, but for now, it's a best case scenario in replacing Elam.