Posted Sat Aug 2nd by Monty
It really is a rare day, Broncos fans.  Gary Zimmerman's induction into the Pro Football Hall of Fame is set to begin at 4PM Denver time.  BroncoTalk will be covering the event via Live Blog and we'd love for you to join us.  We'll be there until Zimmerman gives his speech (and if they go in alphabetical order, it's safe to assume Zim will be last), and as you might expect with anything 3 hours long, expect plenty of Broncos chatter and talk among fans.  Don't miss it!
And now, some Zimmerman-flavored links and Create-A-Caption for your Daily Blitz.
Create-A-Caption
Yesterday's winner: andy b.: "In training camp, the Chiefs' coaching staff leads by example: they always wear protection when playing with their Dingle."  Honorable mention: azbronco7, mikebirty, Pat (just imagine the coach saying that, and it's actually very funny).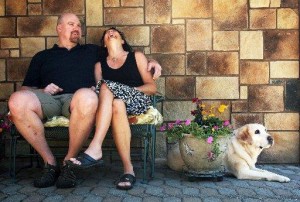 Gary Zimmerman, his wife Lisa, and dog Spud. (Thomas Patterson/Rocky Mountain News)
Your wittiest, most cleverest captions in the comments…