Posted Fri Aug 1st by Monty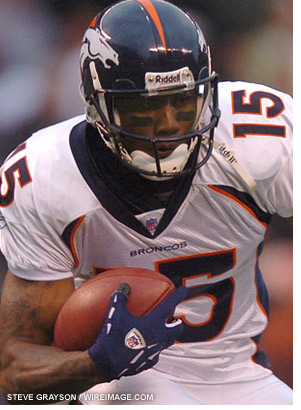 NFL Commissioner Roger Goodell told reporters in Canton, OH today that he has been reviewing the case around Denver Broncos WR Brandon Marshall and will make a decision regarding any disciplinary action soon. Marshall met with Goodell in New York last week to discuss several off field incidents that could be interpreted to be in violation of the League's Personal Conduct Policy.
"But we are in the final stages of that," Goodell said. "We've had a hearing, we've had discussions. We've got a little more work to do — which was actually done (Friday) morning — and we should be making a ruling very shortly."
Goodell then went on to describe how he makes these types of decisions.
"First is to understand all the facts, to understand all the perspective," Goodell said. "So we clearly understand the circumstances in which an incident or incidents occurred. Then we also look at the individual player and how they view the incident and how they view their behavior and how they understand that there are consequences with the kind of action they may have been involved with.

"They also understand what I expect of them and I communicate with them what I expect of them as an NFL player."
Expect the ruling to come Monday or Tuesday. This thing is dragging on way too long and I'm just ready to learn the decision already. My guess is 4 games, Marshall appeals, and gets dropped to 2 games. Personally I've convinced myself he shouldn't be suspended, period.
NFL commish: Decision on Marshall's fate coming soon [Rocky Mountain News]