Posted Thu Jul 31st by Monty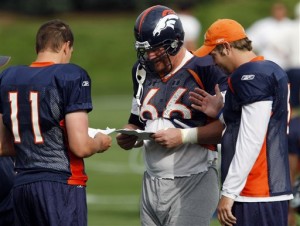 Veteran center Tom Nalen will undergo an MRI on his left knee this afternoon, the Rocky Mountain News reports. The Broncos are calling it a precautionary measure as Nalen is still feeling pain in his bursa sac, the area just below the kneecap.
Nalen underwent knee surgery in early June, a procedure that was only supposed to keep him out for 2-3 weeks. The Broncos first held Nalen out of practice on Tuesday morning, saying it was a scheduled break to give him rest after his surgery. He has yet to see the field since.
DL Ebenezer Ekuban, who is making the surprising move from defensive end to defensive tackle, was also given the day off in attempts to keep him healthy after he tore his Achilles tendon last year.
I'm crossing my fingers it's nothing. If Nalen has another procedure this close to the season, he could miss some valuable time.