Posted Thu Jul 31st by Monty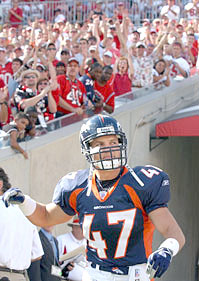 John Lynch and the Denver Broncos have agreed to part ways. While it's disappointing as fans to see a favorite player go, it's an inevitable step in a 16-year NFL career. Had Lynch not asked for his release this year, he likely would have retired the next, so let's discuss less what the future has in store for Lynch and more about where this news leaves the Broncos.
The Broncos have been preparing for this news, and had to know it was coming. If both Jonathan and I anticipated that this was a possible outcome of Lynch's limited action this offseason, the Broncos front office surely did as well. On Saturday I previewed the defense for training camp and mentioned, "Did he come back to play a limited role?… If Lynch can't go all-out, do the Broncos have room on the roster to keep the potential Hall of Famer?" Jonathan mentioned his concern only yesterday, saying "Watch closely folks, this might be John Lynch's last training camp…. if Lynch thinks his playing time will be reduced this season he's going to walk way." We don't pretend to be as smart as the guys who run the Denver Broncos front office. The writing's been on the wall.
The Broncos are left with four safeties on the roster, the same number of guys they usually carry at the position from year to year. This year's group of safeties is a mix of youth and veteran experience, although none compare to Lynch's resume. Perhaps most alarming is the fact that only one of these safeties has any experience with the Denver Broncos defense – and he's only started 8 games in it.

I'm referring to, of course, Hamza Abdullah, who has been a project of the Broncos since he was acquired in his rookie year off Tampa Bay's practice squad. Abdullah will be the team's starting strong safety, and is a polarizing player among fans. Some love his speed and his ability in the passing game; others point out the bad angles and poor tackling that plagues him at times. Love him or hate him, he's the only guy with any experience with Defensive Coordinator Bob Slowik. He'll be given the chance to start every game this season.
Meanwhile, the Broncos added a few guys to compete for starting roles in Marlon McCree and Marquand Manuel. McCree was set to split snaps with Lynch, taking over in the nickel and dime packages (otherwise known as sure-fire passing situations). Now that Lynch is gone, I expect McCree to see more of the field, starting on top of his pass coverage duties. Manuel is a solid backup with experience at both positions.
Finally, the Broncos spent a seventh round draft pick on Josh Barrett. Barrett hasn't impressed much thus far in training camp and will likely spend his rookie campaign on special teams. The Broncos also have Domonique Foxworth, who can step in and play safety in a pinch.
Lynch's departure is a tough pill to swallow as fans, because he's the type of player you root for and a leader on the defense. If you're just looking at the on the field football angles, the move isn't so bad. Lynch has lost a step, and carrying five safeties would have been a steep price for this year's roster, with all the youth impressing in different areas.
Of course, as a popular player and potential Hall of Famer, we'll miss John Lynch and his passion for the game, but this football team will be alright with the other players we have on defense. The void he leaves in leadership, though, may be a tougher gap to fill.