Posted Wed Jul 30th by Monty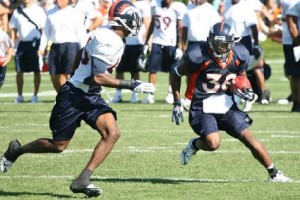 Brian Westbrook. Philadelphia Eagles running back. 5'8″, 200 lbs. 9,512 all-purpose yards in college, an all-time NCAA record. In six years in the NFL, Westbrook has acquired 9,002 all-purpose yards (rushing, receiving, and punt/kickoff returns).
Warrick Dunn. Tampa Bay Buccaneers running back. 5'9″, 180 lbs. 3,959 rushing yards stands as an FSU record, one of many Dunn still holds. In eleven years in the NFL, Dunn has acquired 14,548 all-purpose yards.
Anthony Alridge. Denver Broncos undrafted rookie running back. 5'9″, 185 lbs. 4,438 all-purpose yards in college, holding the University of Houston record for average yards per play with 9.4. Rushed for 10.1 yards per carry as a junior, leading the nation in that category.
The overall production in college doesn't quite compare to Westbrook or Dunn, but Anthony "Quick 6" Alridge's impressive production in limited work at Houston has earned him quite a buzz. His performance at Denver Broncos training camp has only increased that buzz – Alridge has looked very good in camp, breaking off long runs to the outside and burning defenders on several occasions.
Alridge once was considered an almost-certain practice squadder for the Broncos – with a lot of depth and competition at running back, Alridge's uphill battle to make the roster seemed too tall a task for a 5'8″ undrafted rookie. Now that camp has gotten underway, it appears the Broncos have a tough decision to make: lock him up with a roster spot, or risk placing him on that practice squad, where any other NFL team can pluck him off.
Alridge's main detractor has always been his small size, but if he follows the bath of Philly's Westbrook (special teams work as a punt and kickoff returner for the first few years, before showing his value on offense), Alridge has a real shot to become a star in this league. By all accounts, his work ethic and dedication are second to none, attributes only validated by the work he put during the offseason to gain between 10 and 20 lbs.
And if similar-in-size Westbrook and Dunn can have such productive NFL careers, why couldn't Alrdige?
I'll admit Alrdige's small size has caused me to overlook his potential. But I've talked to some people who know him from the University of Houston, and all I keep hearing is how special he is – and how special he could be at the pro level. A dynamic back with good hands and breakaway speed doesn't come around so often; the Broncos have a tough choice to make when it comes time to fill the last of their 53 roster spots.