Posted Mon Jul 28th by Monty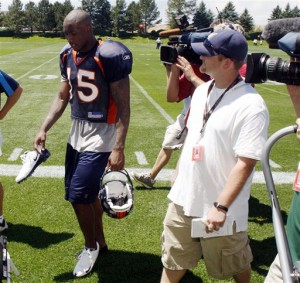 Brandon Marshall's looming suspension is the talk of Broncos Nation. After the third year wide receiver met with NFL Commissioner Roger Goodell a week ago, many had speculated the Commish would slap Marshall with a 2-4 game suspension, and move on.
Then, word came out last week that the Commissioner was leaning toward a more severe 4-8 game suspension. Most fans thought that would be overkill, and that Marshall hadn't done enough wrongdoing to deserve such a strict penalty.
Today, CompleteColorado.com is reporting that Marshall has a few more incidents involving the police in his past, including six 911 calls in the past 18 months to his house in a Highlands Ranch suburb. In all but one incident, a police report was not filed. The site has the complete breakdown, with reports on each incident.
If you take the time to read each incident, though, you'll find that Marshall had little or nothing to do with any of them. Let me break it down for you…
#1 – February 14, 2007 – A warrant was serviced.  It is not clear for whom.  Moving on…
#2 – July 3, 2007 – No complaint filed. A security guard threatened to kill an unspecified Denver Broncos player. Scary to say the least, but nothing came of it.  Moving on…
#3 – November 19, 2007 – Serviced an arrest warrant on Marshall's friend Carl Carrell.  Moving on…
#4 – December 25, 2007 – A mysterious domestic violence call.  This one sounds fishy.  The woman changed her story in the middle of the call, but nothing came of it.  Moving on…
#5 – May 10, 2008 – Marshall's cousin physically assaults a woman.  Again, not Marshall.  Moving on…
#6 – June 28, 2008 – Marshall had his music on too loud.  At 3 AM.  Which is dumb.   Let's suspend him over it.
The site also reports that three individuals had temporary restraining orders placed on Marshall, which were all voluntarily rescinded two weeks later.
This is a simple case of a stupid website digging for news.  I completely agree with Ian in his blog post – these trashy wannabe journalists are spending hours a day digging up dirt, trying to break news.  It's pathetic, and frankly, disgusting.
Nothing new to see here folks. To me it sounds more and more like there are people in Brandon's life who are trying to take advantage of his situation, and even punish him, as he expressed in previous comments regarding his ex-girlfriend.  Until we know further, it's impossible to judge whether Marshall has become the victim of vindictive people around him (which I am now beginning to believe he has), or whether he is in fact a spark that aids in these incidents.  We don't know, and that's the point – and it's impossible to suspend him until we do.