Posted Fri Jul 25th by Monty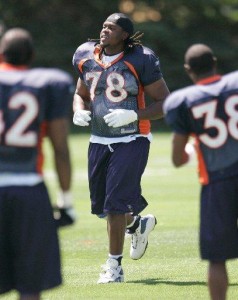 Studs
The consensus is that rookie FB Peyton Hillis is everything fans have cracked him up to be, at least after one practice. Our friends at the Orange Mane (requires registration) Oskie and 24champbailey are contributing reports, and both like what they see in Hillis.
Glenn Martinez is receiving praise on all fronts, apparently outplaying Darrell Jackson and Keary Colbert in day one.
Eddie Royal had a nice diving catch, but also fumbled once.
Duds
FM 104.3 The Fan reports that starting RG (and my boy) Montrae Holland was not allowed on the practice field due to weighing in eight pounds too heavy. Funny enough, he was suited up and ready to go for the afternoon practice. Chris Kuper filled in his spot at right guard in his absence, and Ryan Harris started at right tackle.
Punter Sam Paulescu had an up-and-down start, first driving a punt home before fumbling a snap and performing a dirty punt.
Injury Watch
We already reported that DT Carlton Powell is out for the year. That's a big loss at a position that needed depth.
Brandon Marshall was up and down, hauling in some one-handed grabs but dropping easy passes as well. His right injured arm was wrapped for most of practice, before the wide receiver took it off himself.
Tony Scheffler's foot was fine – his hand was being wrapped after practice, though.
The Lighter Side
Rookie Ryan Clady, $17 million richer, led the stretches in a little dance that showed off his "Sweet Feet." Royal described Clady's dance moves as "ugly. I don't know what thing was." Everyone has come to the same conclusion – this guy's a mammoth.
Mike Shanahan apparently invited a small child onto the football field before practice to play catch with LB Louis Green. Cute.
Full transcript of post-practice comments by Mike Shanahan, Jay Cutler, and Eddie Royal after the jump.

HEAD COACH MIKE SHANAHAN
On the first practice of training camp
"Typical first day, especially in pads. Any time you don't practice for about 15 days, it's really hard to look sharp, but I know we had some good effort. It was a little bit hot with player in full pads, [but] it's nice to get back in football shape.
"We've been going for about a month, but any time you're away from football-related drills, it takes a while. The first day is always the toughest, especially with shoulder pads on, but the guys worked extremely hard and over time we'll eliminate mistakes and hopefully get better day by day."
On WR Brandon Marshall's health
"Good. He's fine. He's been going full speed for a month."
On QB Jay Cutler's health
"He's controlling the diabetes. Obviously he has a game plan. He's gained his weight back—the majority of his weight—and he looks good."
On DT Carlton Powell's injury
"It happened a number of weeks ago. His Achilles popped in the offseason conditioning program, and he's obviously out for the year."
On T Ryan Clady signing the first day of camp
"We got it done at about 4:30 this morning. The guys worked extremely hard to get it done. A lot of posturing back and forth, but it's nice to have him in camp."
On G Montrae Holland
"He's OK. He's a little overweight. We're not going to have him practice until he gets back to his reporting weight. When he does, we'll let him practice, but until then we're going to keep him in that weight room with [Strength & Conditioning Coach] Rich [Tuten] and get him back into football shape. When he is at the required weight we will let him practice with the team."
BRONCOS QUARTERBACK JAY CUTLER
On the first day of training camp
"The first day went well. Obviously we have some kinks to work out with guys being off for a few weeks, but we got the pads on and it went well."
On the heat
"It got a little hot on us. We had a little bit later practice because we had some meetings this morning. The rest of camp will be a little better, hopefully not this bad."
On how diabetes has changed things
"I feel good. I don't really think about it, but I have Greek [Head Athletic Trainer Steve Antonopulos] and he has all my stuff and he checks it and makes sure I am OK. If I need a Gatorade, they get me some Gatorade. Once I hit the field, I am not really thinking about it. I have a monitor that monitors my blood sugar every minute. Greek just walks by me and tells me where I am at. If I am feeling OK, then I feel ok. I do have a pump, but when it gets really hot out it gets a little sticky and I don't like messing with it."
On WR Brandon Marshall's effort
"He looked good. I think he is a little out of shape and he needs to run a little bit, but he caught the ball well and he was physical. I am excited to see him in a few weeks. He has been through a lot this offseason and to come out here and not think about stuff, do what he loves and just play football is good. I knew he would be fine. He said his hand was fine and he caught a few one handed on the right arm. He looked good."
On rookie wide receivers being more prepared for training camp after participating in OTAs
"It helps a lot. These guys came in during OTAs, they came in and stepped up and learned the playbook quickly. There were not a lot of mental errors today by the wide receiver group. They know what is going on, they know where to be and they know how to catch the ball."
On being motivated
"That is the good thing about the NFL. Every year is a new year, and everyone comes in with a clean slate. We feel good about where we are at. Obviously we didn't get done what we wanted to last year, but we have a good group of guys. We are just going to take it day by day, practice by practice and hopefully during the season we are where we want to be."
On his grasp on diabetes
"I know all the information I need to know about it. Obviously it is an on-going struggle every day just keeping the levels where I want them. We are doing a great job with my food and my insulin intakes. It has went well so far. I am going to try and do what I did last year. Last year my body just wasn't reacting. I didn't know if I was going to make it to the end of the season to tell you the truth, but this year I am at the weight I kind of want to be at and ill maybe gain a little bit more through camp. I just have to keep doing what I have done my whole career and that is get in the weight room and stay in shape and hopefully avoid injuries."
On his offseason
"The first month we took it slow. We didn't know what to expect. We didn't know what working out and the heat and stuff was going to do to me. We took it slow and eased into it and once I felt comfortable and had a good grasp on it they let me loose. All the monitors and pumps just make it easier. When we start going south to some teams, it is going to be a little bit different. When it gets hot I start dropping lower and I have to watch it."
On his charity work relating to diabetes
"We are just kind of tapping into that. Once the season is over, I will take that to another level. The support we have received is amazing, not just from diabetic organizations but from kids in general. I get letters daily and e-mails with support and giving me advice. I definitely want to get back into that area but it is going to have to wait until we are done."
On his arm strength
"It is definitely stronger than it was last year. I have taken a couple weeks off, so I am still kind of getting back into it. Now in camp and in OTAs, I still have the zip that I have always had."
On being a vocal leader
"We have so many veterans on this team. I think when you go out there and lead by the way you play and do the right thing on this team. I am the quarterback and I am going to be vocal and we want to get a feel for each others. Once we get to the final roster that is when the leaders will step up. We have to take ownership of the team."
WR EDDIE ROYAL
On what he wants to accomplish in his rookie season
"Just coming out to help the team any way I can. Whatever the coaches want from me, I'll do. I'm just out here trying to work hard every day and just trying to help the team any way I can."
On the defense stripping the ball from him when he was out of bounds
"[CB] Dré Bly got me. It was a good move. [You have to] protect the ball at all times. You never know, so it was a good lesson. You have to expect that as a rookie. They are going to come at you in all ways. They made [T] Ryan Clady dance at the beginning of practice, so I'll be working on my dance moves."
On T Ryan Clady's dance moves
"That was ugly. I don't know what that thing was. But it's all in fun. He had a good time up there, so it wasn't too bad."
On training camp compared to OTAs
"It's fun. These pads make a world of difference. Just getting out there, it's a little bit more banging. The contact, you have to expect that. You saw a few guys get hit pretty hard today, so it's fun banging around."
On why he did not carry any veterans pads off the field
"I don't know, they must have forgot I was a rookie. Maybe I'm playing so well they forgot I was a rookie."