Posted Fri Jul 25th by Monty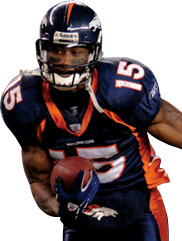 Adam Schefter of the NFL Network still has his finger on the pulse of Broncos football as well as any of the local reporters, even years after relocating. When he has the scoop on anything Denver Broncos, I sit up and listen, and listen well.
That's why his latest report that Brandon Marshall is facing a four to eight game suspension has me concerned. Marshall met with NFL Commissioner Roger Goodell last Friday involving his off-field incidents, and it is believed that the Commish will make a ruling on the matter next week.
Up to this point, the consensus was that Marshall's lack of ever being convicted, combined with the fact that the majority of those incidents stem from his relationship with the same woman, would result in a suspension of at most a few games, if any at all. This is the first I've heard of any potential suspension larger than 4 games.
It's worth noting that it's unclear if Schefter is citing a source in his report or merely expressing his opinion. This quote seems to indicate this is just his own speculation: "The league now is weighing whether it should suspend Marshall, and how long the suspension would be." Even so, personal speculation or not, Schefter's is an opinion I'll listen to every time.
Losing Marshall for anything more than 2 games would be a huge blow to the team. Losing him for 8 games is difficult to fathom. We have a tough opening portion of the season, and need Marshall's presence to help shore up one side of the field while the #2 WR position settles itself.