Posted Wed Jul 23rd by Monty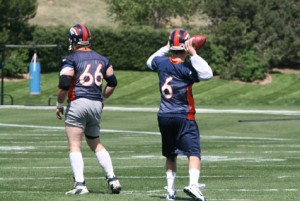 For the latest Denver Broncos Training Camp news and notes, check out our home page,  updated multiple times daily!
The 2008 Denver Broncos report for training camp this Thursday, July 24, with practices beginning at 8:30 11:15 AM on Friday. On offense, the Broncos face several questions at different positions: Who will play wide receiver as the team's No. 2 opposite Brandon Marshall? Will Selvin Young keep his starting running back job? Who will be the team's starting right tackle and fullback? We break it all down for you today.
Wednesday – Offense
Thursday – Defense
Wide Receiver
The Broncos have yet to find a solid one-two punch at wide receiver since Ed McCaffrey retired in 2004. Brandon Marshall is the obvious #1, a centerpiece of our offense, and, if he can stay healthy and out of trouble, a future star in this league. No one is certain who will be playing opposite him though, and the Broncos have no less than four guys who are in the mix.
Keary Colbert joined the Broncos through free agency in this year, and the early plan was that he'd fill the Broncos need at #2. Since then the Broncos brought in two other free agents and a 2nd round draft choice to compete, but Colbert is the only one who has both NFL experience and a long term commitment from the Broncos going for him. Since his rookie season, Colbert has been less than impressive. Last year, he bounced back a bit, gaining his best totals since his rookie campaign with 332 receiving yards, but that still won't be enough for what the Broncos are hoping will come out of the #2 spot. The Broncos want him to win the job, but Colbert still has to put in a lot of work to earn it.

Darrell Jackson signed a one-year deal with the Broncos a few weeks before the draft, boasting the best resume of any of the new players the Broncos brought in. He struggled in San Francisco last year, but outside of that and an injury-riddled 2005 has been a very productive receiver in the NFL. He's a prototypical West Coast Offense receiver who brings yards after the catch abilities the Broncos want. He's also the oldest of the group, signing a one-year deal to prove he's still got ability in the NFL (and to get that next big paycheck).
Samie Parker wasn't the most popular addition among fans, but I disagree and think he could be a nice pickup for the Broncos. I'm not sure if he's #2 material, but there's definitely room for him in this offense. Last year was his worst year since his rookie campaign, but that has more to do with the offense, coach, and quarterback than anything. He's a speedy stretch-the-field type of player (unofficially the fastest player on the Broncos roster), but that's not enough to win the #2 spot. Will Samie Parker make the team? I think he will.
Eddie Royal was drafted by the Broncos to improve the special teams work as a returner immediately while growing with the team for future wide receiver work. Apparently he's already impressed, and rumor has it that the Broncos are impressed enough to consider giving him the #2 spot. I think this excitement is preliminary and the Broncos will conclude that impressive work in shorts in June doesn't equate to NFL starter material – at least not yet. At least early on, Royal's main contributions will be in the return game.
Glenn Martinez is less a possibility for the #2 receiver spot than a possible roster cut. He had a decent 2007 season at WR and PR, including one return for a touchdown on Monday Night Football, but the influx of new guys has to make it difficult for him to make the squad. I'm guessing he'll be competing against Parker for the roster spot.
Right Tackle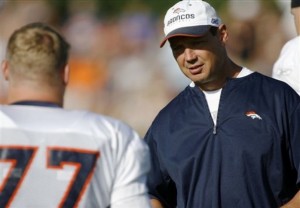 Two young players will duke it out for the right tackle spot – 2006 5th round pick Chris Kuper and 2007 3rd round pick Ryan Harris. Kuper was the Broncos' starting left guard for the last 11 games of the 2007 season, while Harris contributed to special teams and saw limited snaps at both left and right tackle late last year. The main concerns with Kuper are his ability to move to tackle at the pro level, and to improve upon his performance last year. The main concerns with Harris are his recurring back injury and his inexperience at the NFL level. This one should be an interesting training camp battle. The Broncos have Kuper penciled in as the starter, but I'm still predicting Harris takes the job.
Running Back
Selvin Young has the starting job locked up for the moment, but that hasn't been a guarantee of anything in many Denver Broncos training camps past. In his season ending press conference, Head Coach Mike Shanahan even indicated that he didn't think Young had the durability to tote the rock as a full time starter. Injuries sidelined him in college, and last year Young struggled at times with an elbow injury. His last few games as a starter were disappointing. All that being said, he still managed to tally impressive numbers (over 5 yards per carry) and has promised a 2,000 yard season. He's the guy unless he goes down or someone trumps him on the depth chart.
Ryan Torain, the rookie 5th round draft pick, has many fans buzzing about his size and power. The main concern involving Torain is his health – he's coming off Lisfranc foot surgery that usually takes over a year to fully recuperate. However, Torain underwent a different form of surgery (an experimental type – ooh, ah!) that has helped him already see significant work in practices. A running back who comes from a similar system as the Broncos' zone blocking scheme, Torain could steal carries from Young, even early and often.
Andre Hall is a hard guy to get a read on, in all honesty. Last year he played very well in both the running and return game, if inconsistently. Our local Hall-guru Jonathan Douglas said it best himself in Hall's bio: "…often follows long breakout runs with disappointingly short gains." He's a valuable player on the roster because of his special teams work, but he'll have to impress to impact the running game this year.
Michael Pittman joined the Broncos just before the team's mini camps, and will have to put in the most effort among tailbacks to make the team. He has the physicality you look for, but I just don't think he brings enough at his age to warrant a roster spot. When you consider how deep into the depth chart the Tampa Bay Bucs had to go last year, and Pittman still wasn't seeing the field – well, he'll be even more hard pressed to land here.
Fullback
The last training camp battle of note is at fullback, where the incumbent lead blocker Cecil Sapp will be attempting to hold off the young rookie Peyton Hillis (and the hype and clamoring of Broncos fans that come with him). I seriously can't remember a group of fans being this excited about a 7th round pick, ever. Hillis' third round grade and pass-catching potential have most fans remembering Broncos fullback days of old. Shanahan doesn't use the fullback as often as he does the tight end these days, but if Hillis' drafting marks the return of more versatile play calls involving the FB, then I'm all for it. I've said a few times now I think Hillis will be the starter on day one.
Tomorrow we conclude our look at training camp with the defense. Stay tuned!