Posted Tue Jul 22nd by Monty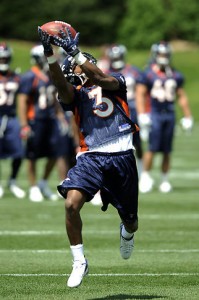 For the latest Denver Broncos Training Camp news and notes, check out our home page,  updated multiple times daily!
The 2008 Denver Broncos report for training camp this Thursday, July 24, with practices beginning at 8:30 11:15 AM on Friday. The first special teams practice will be Saturday afternoon at 3:40 PM, and the Broncos have a lot of questions to answer on a unit that looks remarkably different from last year's squad. The Broncos will have a new kicker, a new punter, likely all new returners, and a host of incoming rookies to help out on special teams coverage.
Tuesday – Special Teams
Wednesday – Offense
Thursday – Defense
Kicker – Matt Prater
The release of undrafted rookie K Garrett Hartley yesterday leaves Matt Prater as the club's only player at the position. Can he hold the fort, or will the Broncos bring in a veteran to compete for the job? At this point, I think it all depends on how Prater does in practice. At the first signs of struggle, I imagine the Broncos will jump at one of the veteran kickers on the market. They had previously hosted Mr. Idiot-Kicker himself Mike Vanderjagt for a workout, who has since signed a contract with the CFL. The Denver Post threw out the names John Carney and Dave Rayner as possible options.
Prediction: That's not the strongest of markets. Prater wins the job, which honestly has me shaking in my boots a bit.

Punter – Sam Paulescu, Brett Kern
Paulescu played for the Broncos in Week 17 last year, punting five times for 221 yards (44.2 gross / 40.0 net) with one punt placed inside the 20. He has the early edge to win the punter job, but the Broncos brought in undrafted rookie Brett Kern to compete. Their college stats are very similar, but I'd give the slight edge to Kern. We'll see if Paulescu's experience can help him win the job.
Prediction: It really is a flip of the coin. Kern excites me a bit more, and I'm guessing he gets the job.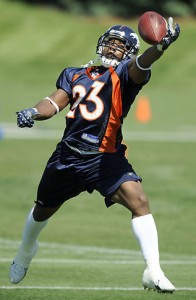 Returners – Eddie Royal, Anthony Alridge, Jack Williams, Andre Hall, Glenn Martinez
The competition at this spot should be fierce, although the Broncos drafted Royal with the intention of improving their special teams. If Alridge wants to make the team, he will absolutely have to impress in this area of the field. Meanwhile, CB Williams will see work here as well. Last year's main returning duo, Andre Hall and Glenn Martinez, have a lot of competition coming into the season.
Prediction: Expect Royal to get a load of return duties, especially on punt returns. Andre Hall will be "the guy" on kickoffs, and Jack Williams will get some looks as well.
Long Snapper – Mike Leach, Kory Lichtensteiger
Leach has this job pretty well locked up, but it's worth noting that the Broncos have mentioned interest in Lichtensteiger performing in this area as well.
Prediction: Leach will still be the guy.
Coverage Units
Nothing like getting torched for two Devin Hester touchdowns to bring this part of the field into striking clarity. Most of the rookies will see a lot of action on special teams coverage units, but what really interests me is how veteran players who have had success on special teams in years past will fare in training camp this year. The Broncos don't often keep more than six linebackers, nor do they often keep more than four safeties. They currently have 14 players for those 10 spots – the hardest part is that you can make an argument for every single player making the team. I'm guessing they'll keep 11, but where does that leave a special teams guru like Louis Green?
Prediction: This area looks like it will be getting an infusion of youth this year.
Special teams practices take place every other afternoon fairly consistently – with a huge turnover from last year, this year's practices should be interesting.